Help Us Conserve Water This Summer!
Contact Info
City Hall
60 South Main Street
P.O. Box 48
Driggs, Idaho 83422
Hours: Monday-Thursday 8:30 a.m. - 5:00 p.m.
Friday 8:30 a.m. - 1:00 p.m.
Phone: (208) 354-2362
General Email: info@driggsidaho.org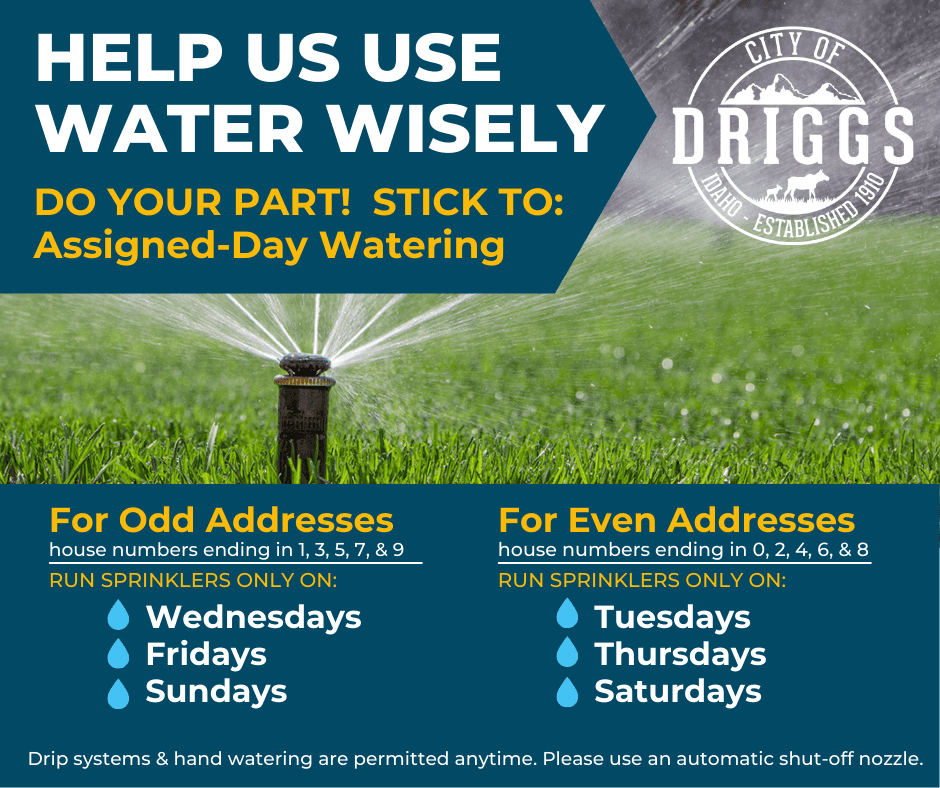 Published: August, 8 2022
Update: July 2022
Please find recommended water use schedule, FAQs, and tips on how to help us use less water this summer on the Utilities: Water & Sewer Page. Continue reading below to understand why our water supply has changed since last summer.
Original Post from May 2022:
The City Council addressed the water situation with Public Works Director, Jay Mazalewski and Keller & Associates, a civil engineering firm.  Read the TVN's article"Driggs eyes conservation measures due to city water supply issue"  for the details from the April 19th City Council Meeting. 

The City of Driggs is fine-tuning a plan for water conservation measures in which residents can voluntarily participate. By staggering irrigation days, we can reduce the strain on our water supply during the warmest months of the year. 

As of right now, the city's water system functions normally, and we will all do our part to keep it that way.  You can help us deliver adequate water flow to all residents by volunteering to set your lawn watering schedule to the staggered days recommended for your address number. This ensures that our water well has time to deliver enough supply across the whole city without being overwhelmed on any given day or during the busiest times of the day.
Assigned-Day Watering Program:
Programs like these have been shown to reduce residential per-capita water use by approximately 30% and help encourage smart water use. Please set your lawn sprinkler system or remember to only turn on your sprinklers on these set days.
DO NOT WATER:
On Mondays
If windy or rainy
Between noon - 6 pm.
For Odd Addresses
House numbers ending in 1, 3, 5, 7, and 9
Run Sprinklers ONLY on:
Wednesdays
Fridays
Sundays
For Even Addresses
House numbers ending in 0, 2, 4, 6, and 8
Run Sprinklers ONLY on:
Tuesdays
Thursdays
Saturdays