Waste Water Treatment Plant Odor is Temporary
Contact Info
City Hall
60 South Main Street
P.O. Box 48
Driggs, Idaho 83422
Hours: Monday-Thursday 8:30 a.m. - 5:00 p.m.
Friday 8:30 a.m. - 1:00 p.m.
Phone: (208) 354-2362
General Email: info@driggsidaho.org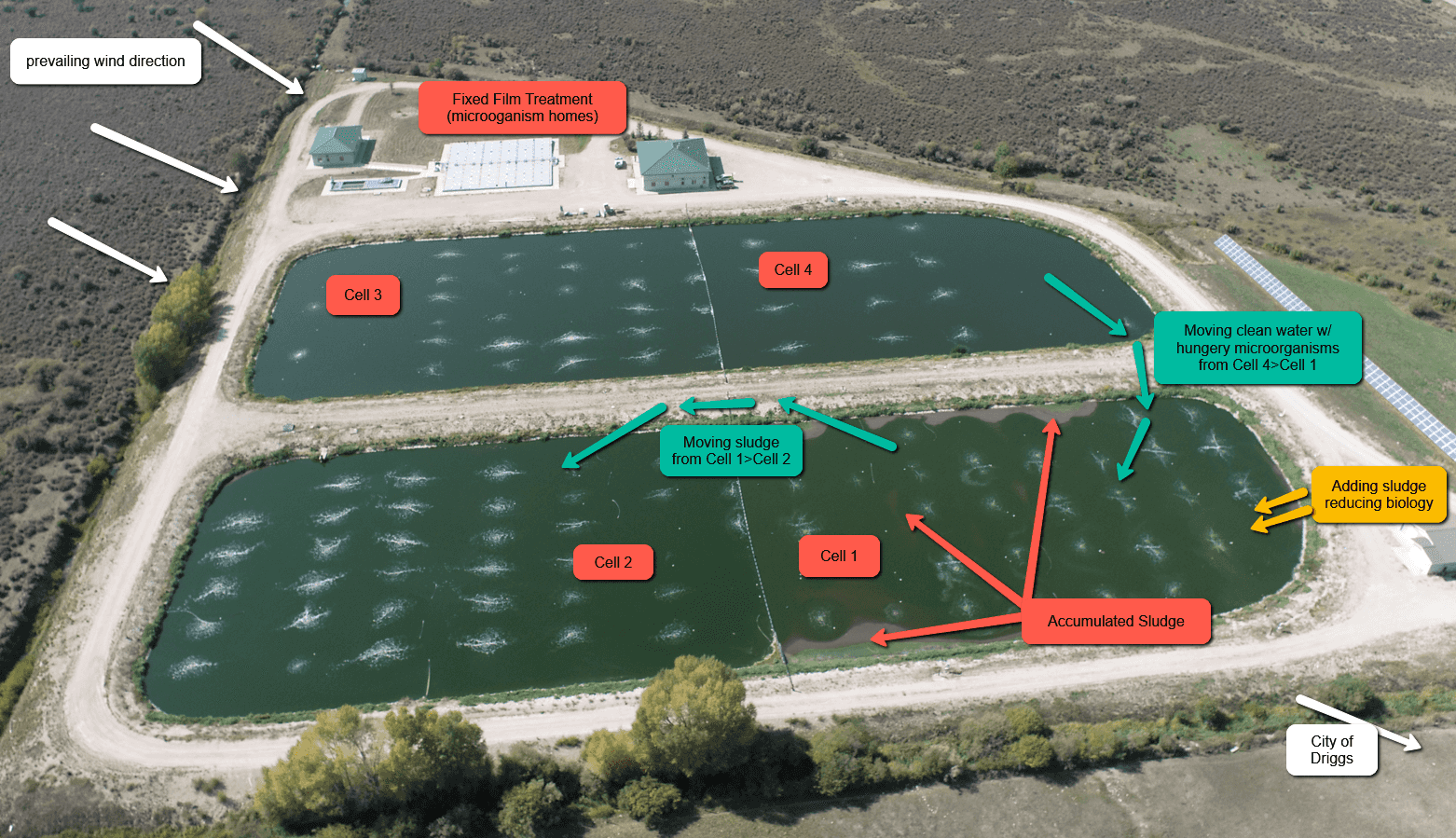 Published: June, 13 2022
An odor has been present in town the last few weeks when the wind is blowing, and many are wondering what it is and where it is coming from. The odor is generated from the Waste Water Treatment Plant (WWTP) on the southwest side of town and, more specifically, from our sludge-holding lagoons. If you're curious about the biology, read on. If you're not into smelly details, know that, while this is not a simple fix, we are well aware of the odor issue and are working to solve this problem.
The Problem:
Microorganisms digest incoming wastewater, and as these microorganisms die, their remains are pumped into the lagoons to decompose further and be digested by other microorganisms. Typically this odor lasts for a few days each spring as temperatures change in the lagoons and the biology wakes up. 
Luckily this is not an issue of our WWTP being at capacity. It is just a nuance of one of four lagoon cells. An aerial survey of the lagoons shows that the first lagoon cell is reaching its capacity for sludge, while the other three cells have ample space. The city is currently pumping sludge from Cell 1 to Cell 2 to disperse this build-up and expedite the decomposition process. Typically this process would remain under the water but is now being stirred up and exposed to the surface, which creates the downwind odor.   
The Solution:
Staff is working diligently to remedy this odor-causing build-up by dispersing sludge across other cells and adding biology to augment and further reduce the amount of sludge. Please note that the WWTP facility is NOT discharging untreated waste, and all water leaving the facility is treated and disinfected. We are also reviewing and updating our 20-year WWTP Facility Plan and will strive for a better-smelling future. The City of Driggs is working on a solution and thanks the community for your patience and understanding.