Public Hearing 10/18 City Council
Contact Info
City Hall
60 South Main Street
P.O. Box 48
Driggs, Idaho 83422
Hours: Monday-Thursday 8:30 a.m. - 5:00 p.m.
Friday 8:30 a.m. - 1:00 p.m.
Phone: (208) 354-2362
General Email: info@driggsidaho.org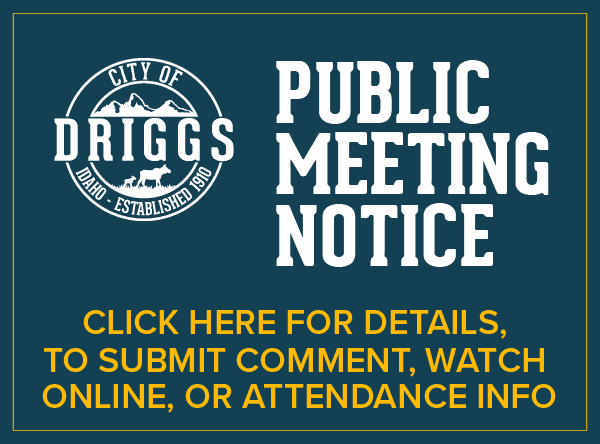 Published: October, 12 2022
NOTICE OF PUBLIC HEARING
Airport Board Ordinance Amendment
CITY OF DRIGGS
A public hearing will be held before the Mayor and City Council of the City of Driggs to hear public comment on the proposed Amendment to the Airport Board Ordinance referencing term limits. Proposed changes limit Airport Board Terms to Two (2) 3-year terms. Termination of terms shall take effect two (2) years and 12 months after the members' 1st Board meeting.
A copy of the ordinance can be found on the Driggs Reed Memorial Airport Website: www.driggsairport.org
Hearing Date & Time: October 18th, 2022 at 6:00 p.m.
Hearing Location: Driggs City Hall, Council Chambers, 60 S. Main Street, Driggs, ID 83422
City Hall is accessible to persons with disabilities. Anyone desiring accommodations for disabilities, please call the City Clerk's office at 208-354-2362 at least 48 hours prior to the public hearing.
Lori Kyle, Airport Administrator