Contact Info
City Hall
60 South Main Street
P.O. Box 48
Driggs, Idaho 83422
Hours: Monday-Thursday 8:30 a.m. - 5:00 p.m.
Friday 8:30 a.m. - 1:00 p.m.
Phone: (208) 354-2362
General Email: info@driggsidaho.org
Primrose Park
Primrose is the city's newest park. Located on the west side of town just NE of the Courthouse, this park was designed for all ages. A playground, basketball courts, pickleball courts, soccer field and a sand volleyball court are all available to the public.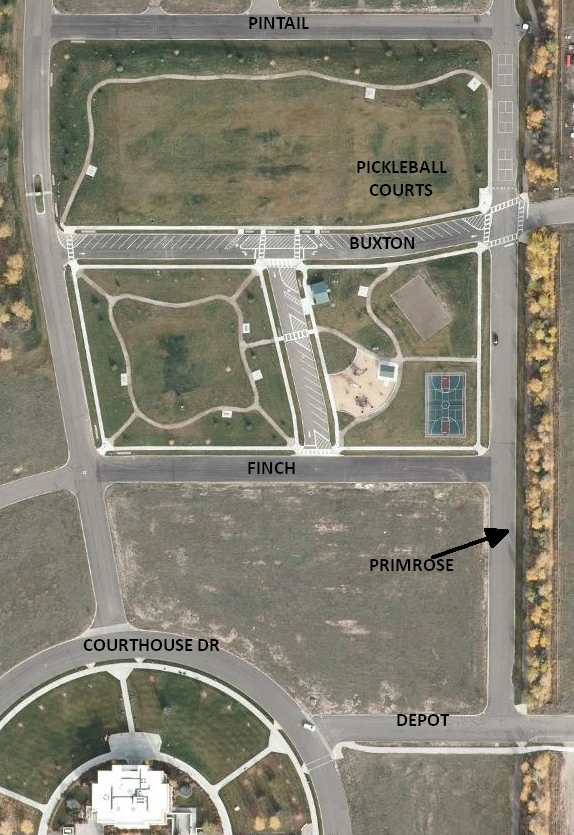 RESERVATION RULES:
1. PARKS RESERVED ON A FIRST COME FIRST SERVED BASIS. NO RESERVATIONS WILL BE TAKEN BEFORE JANUARY 15.
2. FIELD PREPARATION IS THE RESPONSIBILITY OF THE EVENT SPONSOR
3. EVENT SPONSOR IS RESPONSBILB FOR ANY TRASH, CLEAN-UP AND ANY DAMAGE.
4. TURN OFF LIGHTS AFTER USE
5. NO REFUND FOR CANCELED/UNUSED RESERVATION
PARK RULES:
1. PARK HOURS: 5AM UNTIL 11:30PM
2. NO MOTORIZED VEHICLES
3. NO ALCoHOL WITHOUT PERMIT
4. NO FIRES RO FIREWORKS
5. NO SMOKING WITHIN 50-FEET OF ANY STRUCTURE, BLEACHER, OR PLAYGROUND EQUIPEMENT
6. NO ANIMALS OFF LEASH, ALL ANIMAL WASTE MUST BE REMOVED.