Land Acquired from The Nature Conservancy for the Community's Future
Contact Info
City Hall
60 South Main Street
P.O. Box 48
Driggs, Idaho 83422
Hours: Monday-Thursday 8:30 a.m. - 5:00 p.m.
Friday 8:30 a.m. - 1:00 p.m.
Phone: (208) 354-2362
General Email: info@driggsidaho.org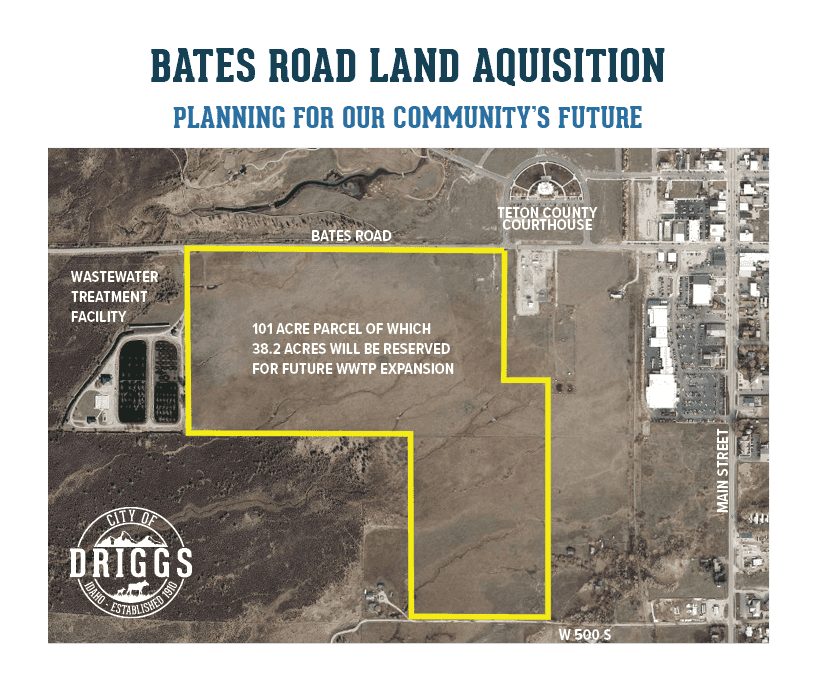 Published: December, 7 2022
For Immediate Release: December 7, 2022 
Contact: Mayor August Christensen, mayor@driggsidaho.org
City of Driggs Acquires Land from The Nature Conservancy for the Community's Future
DRIGGS - The City of Driggs purchased a 101-acre parcel of land this week located on Bates Road just east of the Wastewater Treatment Facility from The Nature Conservancy (TNC).  Doug Self, Driggs Community Development Director noted, "The City Council was looking out generations into the future when deciding to move forward with this acquisition. It will support long-range plans for wastewater treatment, snow storage and stormwater management, sports and recreation facilities and provide a potential opportunity for affordable housing and other public facilities, while also protecting open space and habitat that helps define the city's unique character."
This transaction is part of the Teton Creek Land & Water Project, an ongoing effort launched last year by The Nature Conservancy to achieve conservation and community benefits for the region. Following TNC's acquisition of 1000 acres of property in Teton Valley, TNC is collaborating with local organizations to pursue exciting outcomes including: supporting agricultural irrigation needs and exploring opportunities for implementing regenerative farming practices; improving flow in Teton Creek at critical times for native Yellowstone cutthroat trout; permanently protecting elk migration corridors and wildlife habitat; and meeting community-based needs on parcels with lower conservation values, such as expanding public infrastructure and pathways for community benefit.
"With this project, The Nature Conservancy is supporting a range of critical needs in Teton Valley, from conserving open space for wildlife habitat to finding smart solutions for infrastructure development in our rapidly growing area," says Sarah Lien, Water Attorney for The Nature Conservancy and a Driggs resident. "We are thrilled that the city of Driggs will utilize this parcel to expand essential services that will help our community grow and thrive."
TNC's work builds on community-based efforts that are part of a broader initiative led by the Teton Creek Corridor Project (TCC) partners, a group of local organizations including Friends of the Teton River, Teton Regional Land Trust, Teton Valley Trails & Pathways, Valley Advocates for Responsible Development and LegacyWorks Group.
The City of Driggs purchased the land with wastewater reserve funds and local-option sales tax revenue and explicitly chose not to use property tax revenue. Thirty-eight and a quarter acres of this parcel will be reserved for future Wastewater Treatment Facility expansion needs.  The entire parcel will be subject to a wetland delineation and a master planning process that will involve the public. Currently used as agricultural land, the parcel will continue being leased for grazing in the interim. 
"We are excited about the possibilities that this key piece of land will offer our community's future. It's wonderful to imagine a lovely park and green space connecting our community with the natural beauty while also being smart about growth and planning for generations to come," emphasized City of Driggs Mayor August Christensen.
"We will be seeking public input during the master planning process, and I encourage everyone in our community to engage and let us know your ideas, thoughts, and choices for how this land will serve our community best," Christensen adds. Current and future details on this city-initiated project will be available on our website at DriggsIdaho.org/projects.