LeGrande Pierre road and pathway updates starting in May
Contact Info
City Hall
60 South Main Street
P.O. Box 48
Driggs, Idaho 83422
Hours: Monday-Thursday 8:30 a.m. - 5:00 p.m.
Friday 8:30 a.m. - 1:00 p.m.
Phone: (208) 354-2362
General Email: info@driggsidaho.org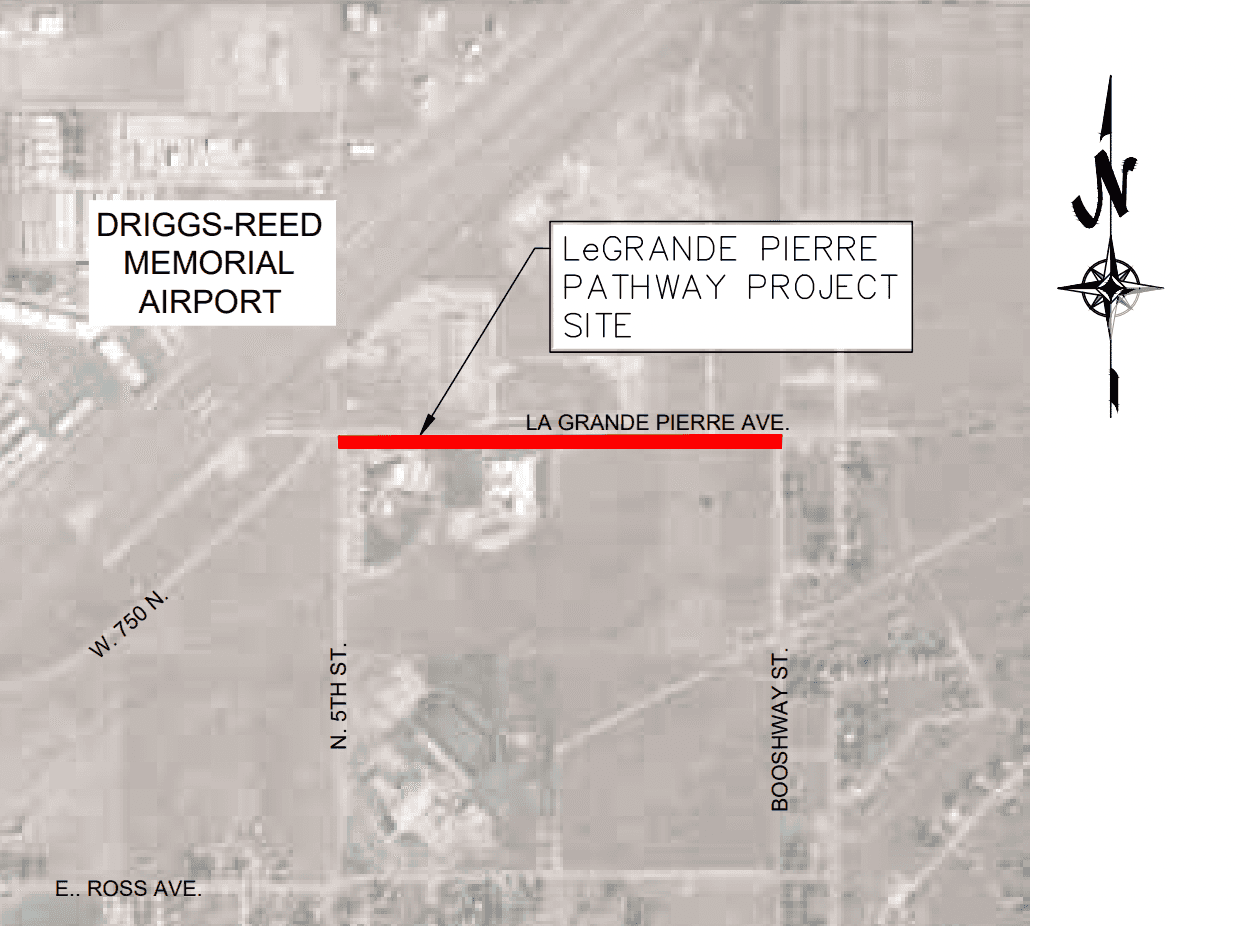 Published: April, 27 2022
The City of Driggs is pleased to provide this update on the LeGrand Pierre Avenue road and pathway improvements planned for the summers of 2022 and 2023. 
May 2022 – Road Grading & Stabilization 
Public Works will be grading and applying a gravel stabilizer in May to LeGrand Pierre Ave. 
July-August 2022 – Pathway Construction 
A 10ft-wide separated (from the roadway) asphalt pathway will be constructed this summer along the south side of LeGrand Pierre Avenue between 5th Street and Booshway Street. The City Council awarded a contract to Avail Construction and expects construction to begin after the end of this school year, with completion prior to the start of the next school year. This project is funded by a federal Transportation Alternatives Program grant and a 7.34% local match from the City's resort tax fund (local-option sales tax). Separate state grant funding is being pursued to extend this pathway south on Booshway in 2022. 
July-August 2023 – Road Improvements 
The City plans to improve the LeGrand Pierre Avenue roadway in the summer of 2023 to a standard paved collector-road standard, with a center turn lane adjacent to the school properties. This project is planned to be funded partly by the City ($230,000 from impact fees, resort tax fund, and a grant), partly by adjacent private property owners ($230,000 via a local improvement district) and partly by Teton School District 401 ($260,000). 
July-August 2024 – Hwy 33 / LeGrand Pierre Ave Turn Lanes 
The Idaho Transportation Department plans to install turn lanes for the Highway 33 and LeGrand Pierre Avenue intersection in 2024. Turn lanes will be installed on both the highway and LeGrand Pierre Ave. 
Additional information can be found on the City's LeGrand Pierre Road Improvements Project Page
Please direct any questions to Doug Self via email at dself@driggsidaho.org or phone at 208-354-2362 ext. 2111