Contact Info
City Hall
60 South Main Street
P.O. Box 48
Driggs, Idaho 83422
Hours: Monday-Thursday 8:30 a.m. - 5:00 p.m.
Friday 8:30 a.m. - 1:00 p.m.
Phone: (208) 354-2362
General Email: info@driggsidaho.org
SUB22-1 Subdivision
Flats at Teton Peaks Subdivision, Multi-family development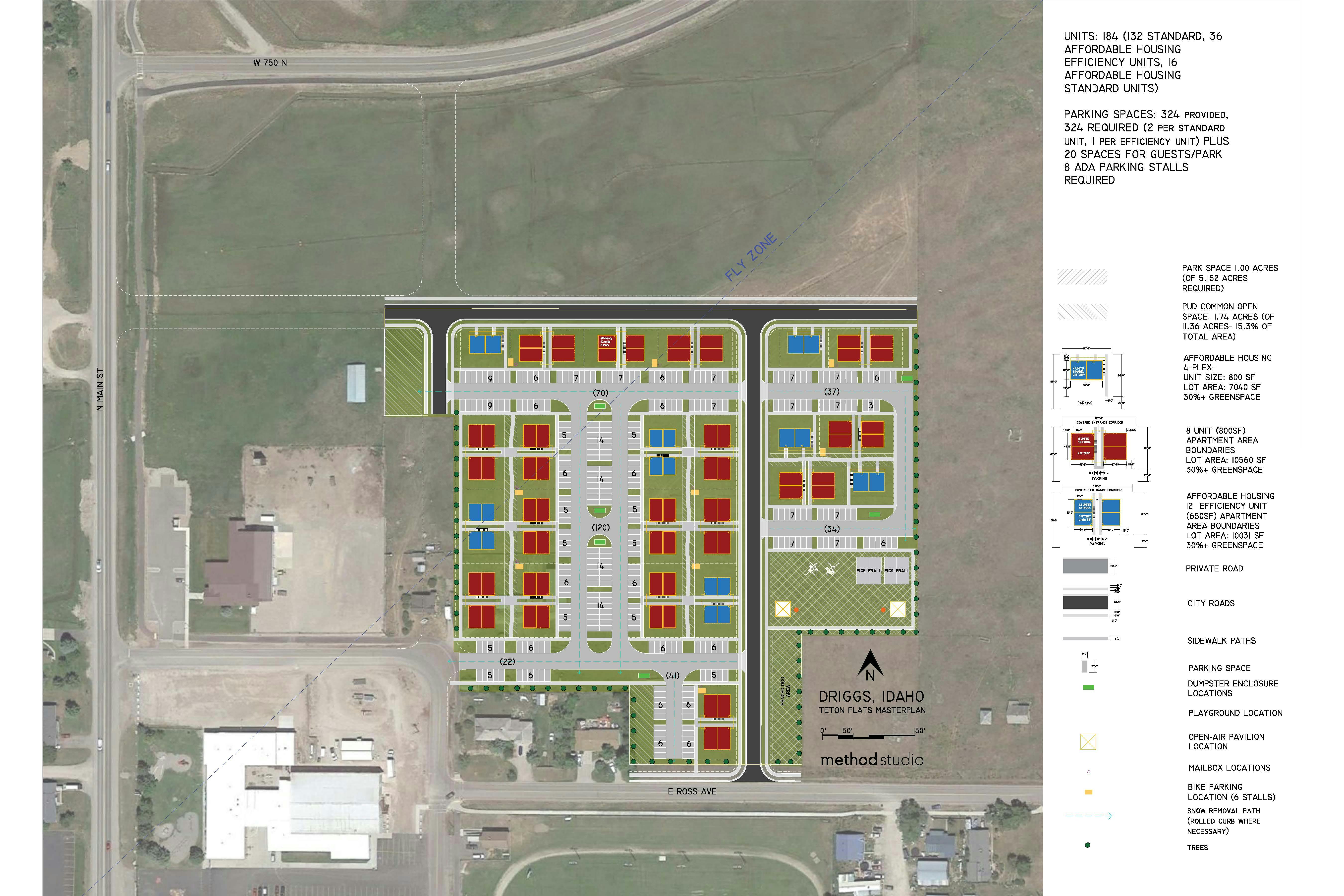 The Flats at Teton Peaks project is a proposed subdivision that is designed to develop 184 condominium apartment units within 4-plexes, 8-plexes, and 12-plexes. The application is being processed as a Planned Unit Development (PUD). The applicant is requesting a handful of modifications to the standard subdivision regulations, which can be allowed via the PUD process in exchange for deed-restricted affordable and workforce housing. Modifications to standard code provisions include minor site development allowances, such as flexibility with building orientation requirements and direction of pedestrian access to buildings and a reduction in required common space and park space requirements. The applicant has proposed, in exchange, to deed-restrict 52 of the 184 total units for workforce or affordable housing. The exact mechanisms to be used to ensure workforce and affordable housing will be determined through negotiations with the Planning & Zoning Commission and City Council; however, it is anticipated that a portion of the units will be restricted to ownership by those who work in Teton County, Idaho, a portion that would restrict nightly rentals, and another portion that would meet income levels to be designated as Affordable Housing.
The applicants submitted an initial Subdivision Concept Plan application in January, 2022 and have been working closely with City staff to refine the application to the current Concept Plan presented. The next step in the subdivision application process is the Preliminary Plat, which will be presented to the Planning & Zoning Commission for a recommendation and then on to City Council for a potential final decision. The applicant has agreed to host a Neighborhood Meeting, prior to submitting their Preliminary Plat application, in order to discuss their proposal with the community.
Neighborhood Meeting - Tuesday, August 30, 6-8pm at Driggs City Hall. All are welcome. The applicant's representative will be presenting on the project beginning at 6pm, followed by questions and answers. City Staff will also be available to answer questions. The applicant and city staff will be available until 8pm to discuss the project. A summary of this meeting will be shared with the Planning & Zoning Commission and City Council.
This meeting can also be accessed via Zoom for those who would like to listen in or ask questions.
Please click the link below to join the webinar:
https://us02web.zoom.us/j/85430444958