A Planning & Zoning Commissioner seat to open in June
Contact Info
City Hall
60 South Main Street
P.O. Box 48
Driggs, Idaho 83422
Hours: Monday-Thursday 8:30 a.m. - 5:00 p.m.
Friday 8:30 a.m. - 1:00 p.m.
Phone: (208) 354-2362
General Email: info@driggsidaho.org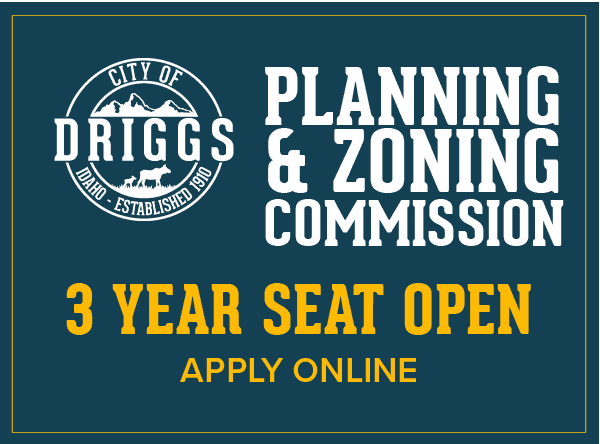 Published: May, 2 2023
The Planning and Zoning Commission is a volunteer board that reviews and makes recommendations on land use and development applications, assists in updating the City's Comprehensive Plan, and proposes amendments to related ordinances.  P&Z meets regularly on the 2nd Wednesday of each month at 6:30pm.  Meetings are held at City Hall and are open to the public.
The Planning & Zoning Commission is a five-member commission appointed by the Mayor and a majority vote of the City Council. Commissioners serve for a maximum of 2 terms, 3 years each.
The City of Driggs is requesting that anyone interested in serving on this commission please fill out the online board application. Any questions regarding the role can be directed to the Planning Department Staff. Please find more information on the Planning & Zoning Commission Board Page and see previous meeting information on the Planning & Zoning Commission meeting page.