Contact Info
City Hall
60 South Main Street
P.O. Box 48
Driggs, Idaho 83422
Hours: Monday-Thursday 8:30 a.m. - 5:00 p.m.
Friday 8:30 a.m. - 1:00 p.m.
Phone: (208) 354-2362
General Email: info@driggsidaho.org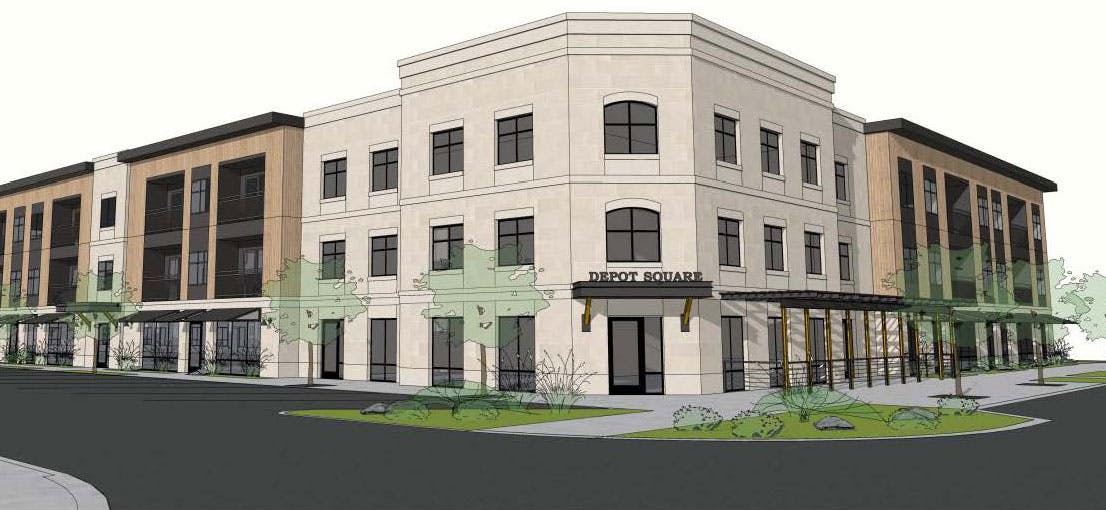 Overview
Depot Square is a mixed-use project completed in August 2023 at the southwest corner of Depot Street and Front Street in Driggs. The building sits on an acre of land being leased by the CIty of Driggs to Northwest Real Estate Capital Corp (NWRECC), which received a tax credit award from Idaho Housing and Finance Association for the project. The project includes 30 deed-restricted affordable apartments as well as retail spaces, live-work units and business incubator spaces.
Affordable Apartments
The project is leasing 1-bedroom, 2-bedroom and 3-bedroom apartments that are deed-restricted as affordable to households earning under 60% of the Area Median Income as well as one 2-bedroom live-work unit that is deed-restricted as affordable.
The application is open and can be obtained, along with info on rents, etc. by emailing depotsquare@nwrecc.org or calling 208-813-3959. Or visit the NWRECC project page at: https://depotsquare.nwrecc.org/ .
Emotional support animals are generally allowed.
There is bike storage and lockers (3ftx3ftx8ft), onsite laundry, gym/fitness, computer room (units pay for their own WiFi).
Commercial Spaces
There are two ground floor commercial spaces available for lease. The larger corner unit is 1,668 square feet and the adjacent is 1,136 square feet. The spaces can be combined. Lease rates for the spaces is $19.00/square foot + $1.00/square foot for Common Area Maintenance. For more information, please contact Doug Self at dself@driggsidaho.org.
Live-Work Units
There are three live-work units (see Floor Plans document linked above) fronting Depot Street. Each unit has a 2-bedroom/1-bath apartment behind and accessible to an approximately 250sf commercial space. Suggested businesses here would be art studios, professional offices, personal service or small retail able to operate within the limited commercial footprint. One of the live-work units will be restricted for occupancy by a household earning less than 60% of Area Median Income. For more information, please contact depotsquare@nwrecc.org.
Business Incubator Spaces
City of Driggs holds a master lease on four 433sf business incubator (or "Proof of Concept") spaces that are being rented for below market rates to startup businesses for up to five years, with rent rates increasing over that period to market rates. The types of businesses sought for these spaces are small retail (gift, specialty, artisan), food/beverage with minimal kitchen needs (yoghurt, acai bowl, sandwich, etc.) and personal service/health. For more information, including a lease application, see the city's business incubators page . All four spaces are currently leased (as of 9/1/2023) and approved applications are being put on a waiting list.
Community Meeting Room
A 679sf meeting room adjacent to the commercial spaces will be available to rent for meetings/events. This space will be managed by the building manager, with rental details available around the time of building completion in July/August 2023.