Public Hearing for Annexation AX21-3
Contact Info
City Hall
60 South Main Street
P.O. Box 48
Driggs, Idaho 83422
Hours: Monday-Thursday 8:30 a.m. - 5:00 p.m.
Friday 8:30 a.m. - 1:00 p.m.
Phone: (208) 354-2362
General Email: info@driggsidaho.org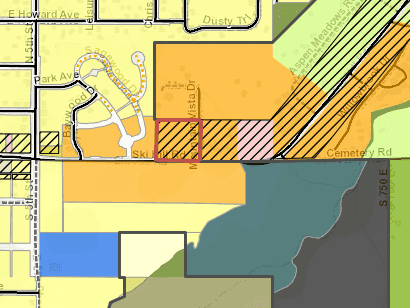 Published: January, 18 2022
A public hearing for Tuesday, February 1st at the City Council Meeting will be open for public comment. The purpose of this hearing is to consider an application for annexation into the City of Driggs with a zoning designation of RM-2 for a five-acre parcel, RP05N45E256100, at Ski Hill Rd and Mountain Vista Drive. The parcel is within the Area of City Impact and is currently zoned R3 Multi-Family.
Review Criteria & Process:
Driggs Planning & Zoning Commission held a public hearing in December 2021 evaluating the application based on conformance with the Driggs Land Development Code, the Driggs Comprehensive Plan, and Idaho State Statute. Driggs Planning & Zoning Commission provided a recommendation to the Driggs City Council, which will hold a public hearing and make a final decision on the project. 
AX21-3 Project Details for this Public Hearing are available and if you would like to make a comment please visit our Public Hearing Page for helpful details on the process and how to effectively make comment. This City Council meeting information contains a direct link to watch the meeting live and tonight's meeting agenda.
In-person attendance at City meetings may be limited to allow for proper distancing in accordance with current CDC and health safety recommendations. Face-coverings are required in City Hall.  
Public Comments can be submitted by mail at Driggs City Hall P.O. Box 48, Driggs, Idaho 83422, by fax to 208-354-8522, emailed to publichearingcomments@driggsidaho.org or by voicemail by calling 208-354-2362 ext. 1007. Written comments received by 5 p.m. Monday, January 25th, 2022, will be included in the staff report. Comments received after January 25th and before the start of the meeting can be read into the record during the meeting. Comments will also be heard from those attending the meeting in person. There will be no opportunity for remote commenting during this meeting.
This public hearing will be held at Driggs City Hall and broadcast via telecommunication devices, in compliance with Open Meeting Law, as per state statute.
To LISTEN ONLY to this City Council Meeting:
            By personal computer, or smartphone use Zoom application: www.Zoom.us
                        Webinar ID: 836 4724 1621
            By Phone: Dial 346-248-7799 or 669-900-9128 and use Webinar ID: 836 4724 1621
            In person at City Hall, 60 S. Main Street, Driggs ID
Please contact Driggs Planning & Zoning Administrator, Leanne Bernstein, via phone (208-354-2362 ext. 2106) or email (LBernstein@driggsidaho.org ) with any questions regarding the hearing.  
Al ser solicitada, ésta notificación puede ser proveída en un formato fácil de usar para personas con discapacidad y/o personas con conocimientos limitados del Inglés.