Public Hearing: 12/06 City Council
Contact Info
City Hall
60 South Main Street
P.O. Box 48
Driggs, Idaho 83422
Hours: Monday-Thursday 8:30 a.m. - 5:00 p.m.
Friday 8:30 a.m. - 1:00 p.m.
Phone: (208) 354-2362
General Email: info@driggsidaho.org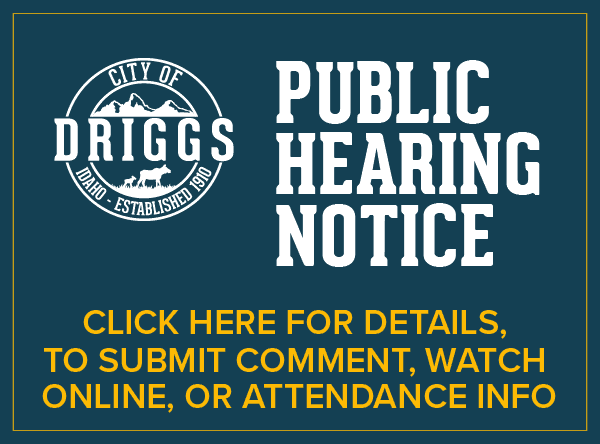 Published: November, 11 2022
Public Hearing AMD22-2: Amendments to the Land Development Code
The City Council will hold a public hearing at their regularly scheduled meeting on December 6, 2022, at 6:00pm to consider a suite of amendments to the Land Development being proposed by planning staff as the result of an annual review of the Code. Amendments include recommendations from the adopted Transportation Plan and adopted Comprehensive Plan, and other general clarification items. The amendments were reviewed by the Planning & Zoning Commission at their regularly scheduled meeting on September 14, 2022, where they made a recommendation of approval to City Council. City Council will make a final decision on the amendments. Further information regarding the amendments can be found on the project page DriggsIdaho.org/projects/amd22-2 .