Public Hearing Notice for Planning & Zoning Commission
Contact Info
City Hall
60 South Main Street
P.O. Box 48
Driggs, Idaho 83422
Hours: Monday-Thursday 8:30 a.m. - 5:00 p.m.
Friday 8:30 a.m. - 1:00 p.m.
Phone: (208) 354-2362
General Email: info@driggsidaho.org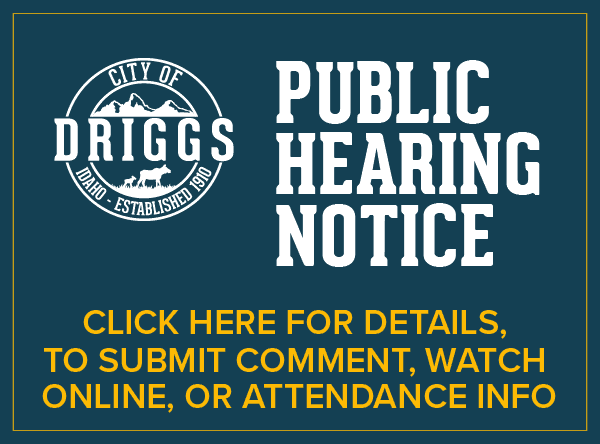 Published: May, 25 2022
Pursuant to established procedure and Idaho Statutes NOTICE IS HEREBY GIVEN that the Driggs Planning & Zoning Commission will hold a public hearing at 60 S. Main St. in Driggs City Hall and broadcast virtually via Zoom on Wednesday, June 8, 2022, at 6:30 pm. There will be an opportunity for the public to comment on public hearing items. Information on accessing the meeting and the agenda are available on the Planning and Zoning Meeting Information Page  and at City Hall. The hearing and meeting items are as follows:
Public Hearing ZC22-4: Zoning Map Amendment for 415 E Little Avenue: ZC22-4 Project Page
The Planning & Zoning Commission will hold a public hearing to consider a Zoning Map Amendment for Parcel RPA0014021006A at 415 E Little Ave, from RS-7 (Residential Single Family and Two-Family) to the NX (Neighborhood Mixed Use) zone.
Zone Map Amendments are reviewed based on the criteria found in Article 14.9 of the Driggs Land Development Code. The Driggs Planning & Zoning Commission will review the project and make a recommendation to Driggs City Council. City Council will make a final decision on the application. Information pertinent to this application is available for review on the ZC22-4 Project Page or may be requested via email, phone, or in-person at City Hall. The Staff Report will be published prior to the hearing.
How to Review, Access, & Submit Comment
Review criteria, processes, and documents pertaining to these applications are available on the corresponding website address listed above. A staff report will be available prior to the meeting date. Zoom instructions and access links are available on the Planning & Zoning Meeting Information Page.
Instructions for submitting public hearing comments are available on the Public Hearing & Comment Page.  Comments received by 5 p.m. Tuesday, May 31, 2022 will be included in the staff report. Comments received after May 31, 2022 and before the start of the meeting will be read into the record during the meeting. Those attending the meeting in person can comment during the corresponding agenda item. Remote commenting during this meeting is not available.
Please contact the city Planning & Zoning Administrator, Leanne Bernstein, via 208-354-2362 ext. 2106 or LBernstein@driggsidaho.org with any questions regarding the hearing or to request communication aids, services, or other accommodations to participate.
Al ser solicitada, ésta notificación puede ser proveída en un formato fácil de usar para personas con discapacidad y/o personas con conocimientos limitados del Inglés.