Public Meeting for City Council on June 7th
Contact Info
City Hall
60 South Main Street
P.O. Box 48
Driggs, Idaho 83422
Hours: Monday-Thursday 8:30 a.m. - 5:00 p.m.
Friday 8:30 a.m. - 1:00 p.m.
Phone: (208) 354-2362
General Email: info@driggsidaho.org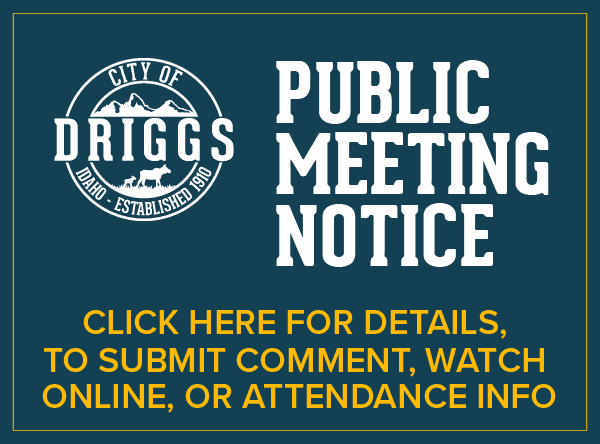 Published: May, 31 2022
Pursuant to established procedure and Idaho Statutes NOTICE IS HEREBY GIVEN that the Driggs City Council will hold a public meeting at 60 S. Main St. in Driggs City Hall and virtually via Zoom Webinar on Tuesday, June 7, 2022, at 6:00 pm. There will be no opportunity for public comment. Information on accessing the meeting and the agenda are available on the City Council Meeting Page and at City Hall. The meeting items are as follows:
Public Meeting SUB19-2: Tributary Phase III Final Plat: SUB19-2 Project Page
The Council will hold a public meeting to review the FINAL PLAT APPLICATION for Tributary Subdivision Phase III. The Preliminary Plat was approved 8/6/2019, allowing installation of public improvements and buildings. Final approval by City Council would allow for sale of individual lots. For more information visit the SUB19-2 Tributary Subdivision Phase III Project Page
Public Meeting SUB21-4: Rivers West Request for Reconsideration – No Public Comments Will be Heard
The Council will hold a public meeting to review the Request for Reconsideration for the Rivers West Subdivision. More information can be found on the City Council Meeting Agenda items: Staff Report    Exhibits  or on the SUB 21-4 Rivers West Project Page
How to Review & Access
Review criteria, process, and documents pertaining to this application are available on the website address listed above and will be available 15 days prior to the meeting. A staff report will be available one week prior to the meeting. Webinar instructions and access links are available on the City Council Meeting Page
Please contact the city Planning & Zoning Administrator, Leanne Bernstein, via 208-354-2362 ext. 2106 or LBernstein@driggsidaho.org with any questions regarding the hearing or to request communication aids, services, or other accommodations to participate.
Al ser solicitada, ésta notificación puede ser proveída en un formato fácil de usar para personas con discapacidad y/o personas con conocimientos limitados del Inglés.