Contact Info
City Hall
60 South Main Street
P.O. Box 48
Driggs, Idaho 83422
Hours: Monday-Thursday 8:30 a.m. - 5:00 p.m.
Friday 8:30 a.m. - 1:00 p.m.
Phone: (208) 354-2362
General Email: info@driggsidaho.org
Public Hearing Information & Comment Form
Public Participation is a critical part of government. Please use the information on this page to easily access meeting information, find information on the Public Hearing Process, learnhow you can participate, and send your comments through the online form below.
Access all public meeting information on our Boards, Commissions & Committees Page.
Public Comment Overview
Public Comments can be submitted
by mail at Driggs City Hall P.O. Box 48, Driggs, Idaho 83422
by fax to 208-354-8522
by email to publichearingcomments@driggsidaho.org
by voicemail when calling 208-354-2362 ext. 1007
Or by submitting the online form below.
Written comments received by 5 p.m. one week before the date of the meeting will be included in the staff report. Comments received after that and before the start of the meeting can be read into the record during the meeting. Comments will also be heard from those attending the meeting in person. There is currently no opportunity for remote (video) commenting during meetings.
Public hearings will be held at Driggs City Hall and broadcast via telecommunication devices, in compliance with Open Meeting Law, as per state statute.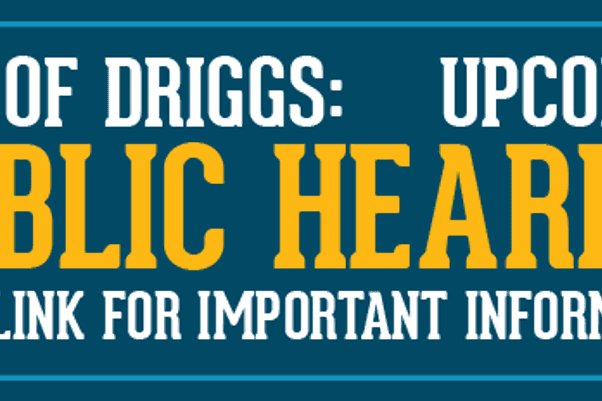 Planning & Zoning Public Hearing: January 12, 2022
The purpose of this hearing is to consider an application for annexation into the City of Driggs with a zoning designation of PUD-T-R of approximately 38 acres and the de-annexation of approximately 3 acres to be designated with AOI ADR-2.5 zoning. All subject areas are within the Tributary Planned Unit Development.
Public Comment Form