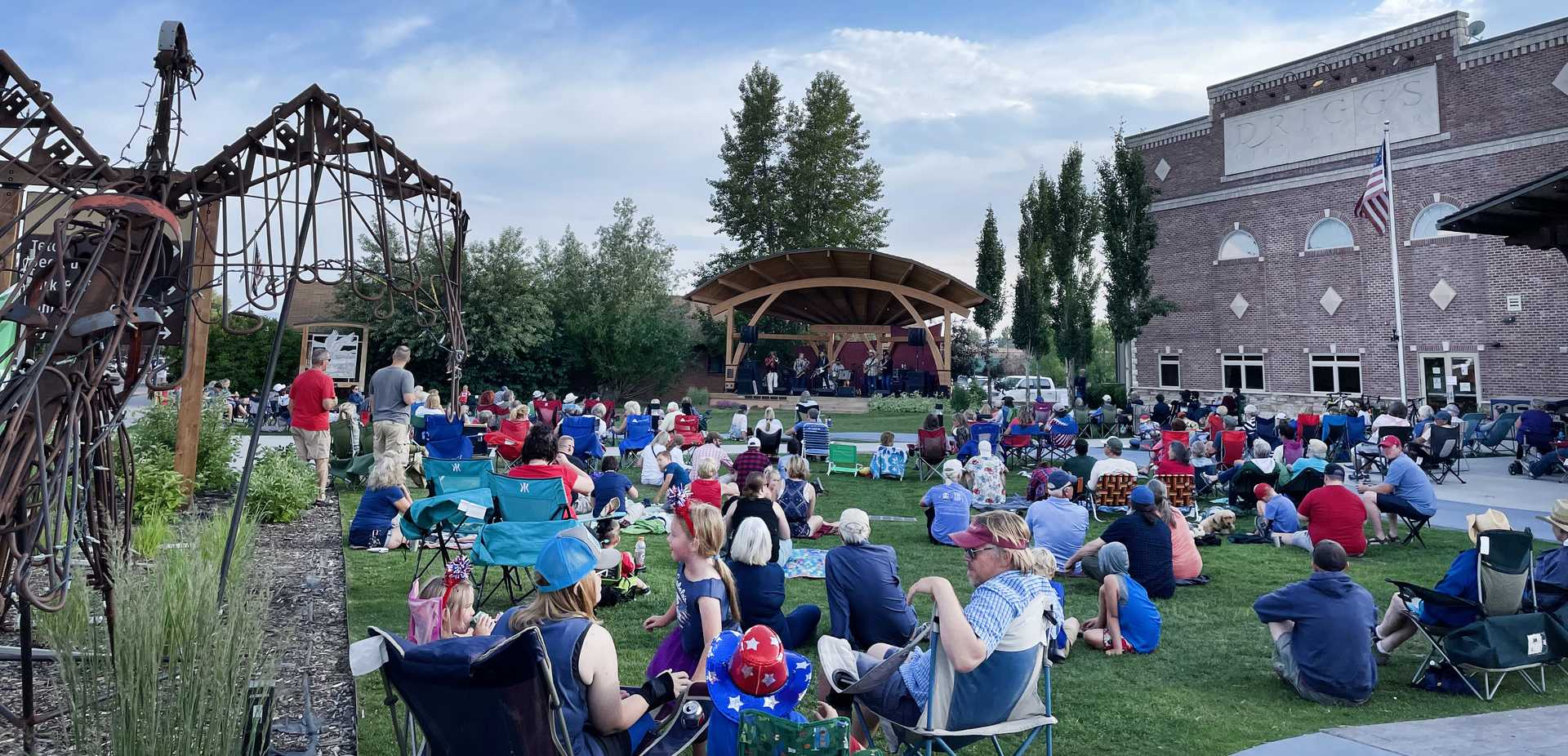 Contact Info
City Hall
60 South Main Street
P.O. Box 48
Driggs, Idaho 83422
Hours: Monday-Thursday 8:30 a.m. - 5:00 p.m.
Friday 8:30 a.m. - 1:00 p.m.
Phone: (208) 354-2362
General Email: info@driggsidaho.org
Recent City News
All the info...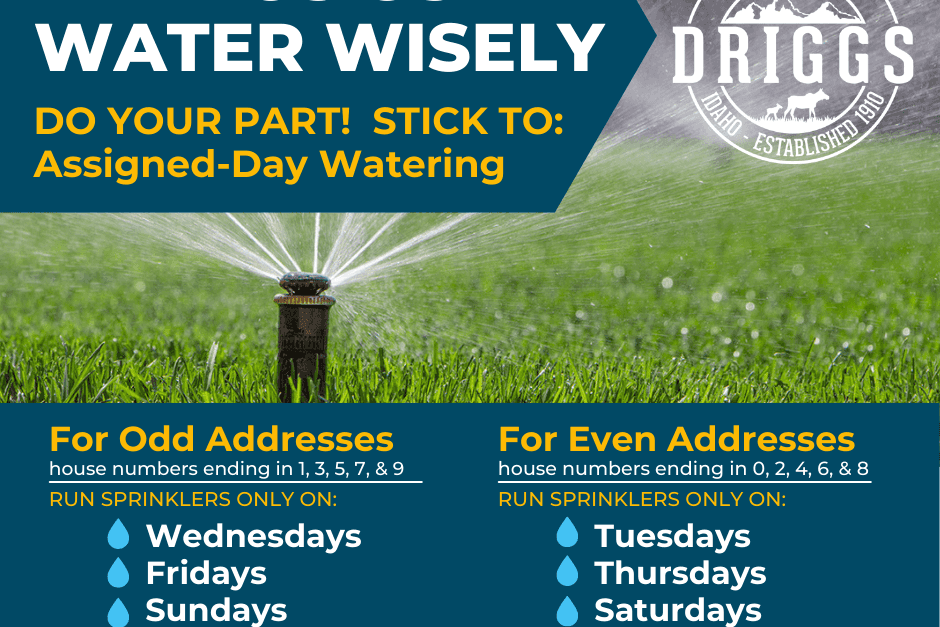 Help Us Conserve Water This Summer!
Help us use water wisely this summer to ensure that our wells can keep up. Do Your Part! Stick to Assigned-Day Watering.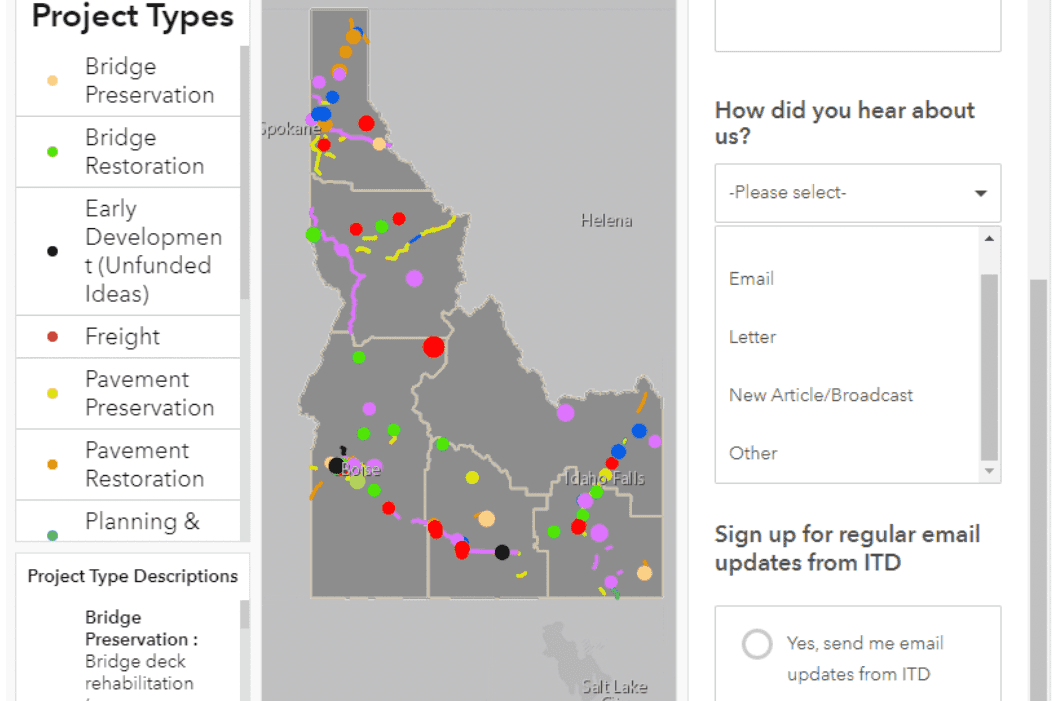 We need your comments to secure funding for roads!
The Idaho Transportation Department is inviting public comment on the Idaho Transportation Investment Program (ITIP) for 2023-2029 now through July 31, 2022.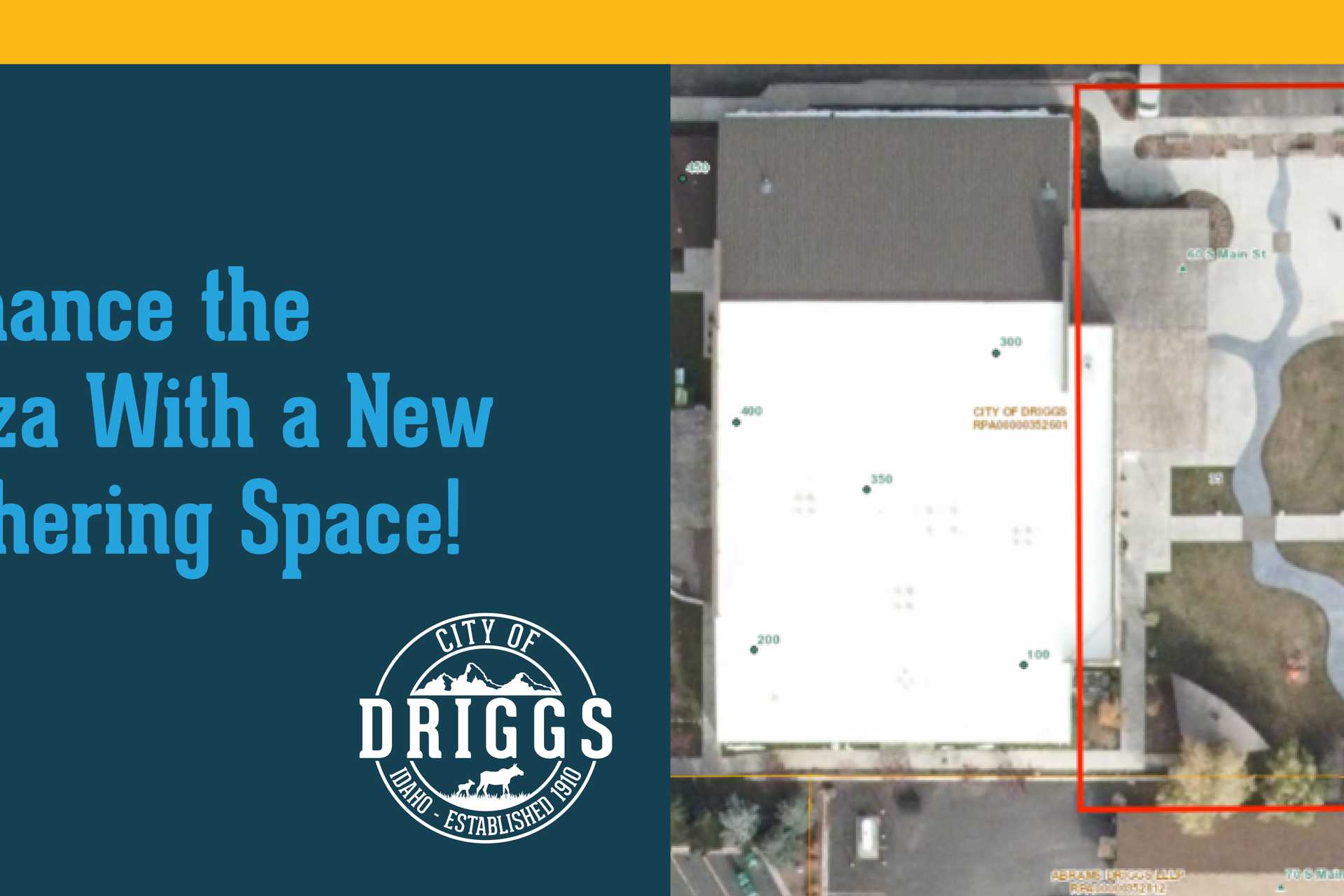 Enhance the Plaza With a New Gathering Space! We need your input! ¡Mejore la plaza con un nuevo espacio de reunión!
The City of Driggs is in the early stages of creating a new community gathering space. Please share your thoughts by completing this short survey.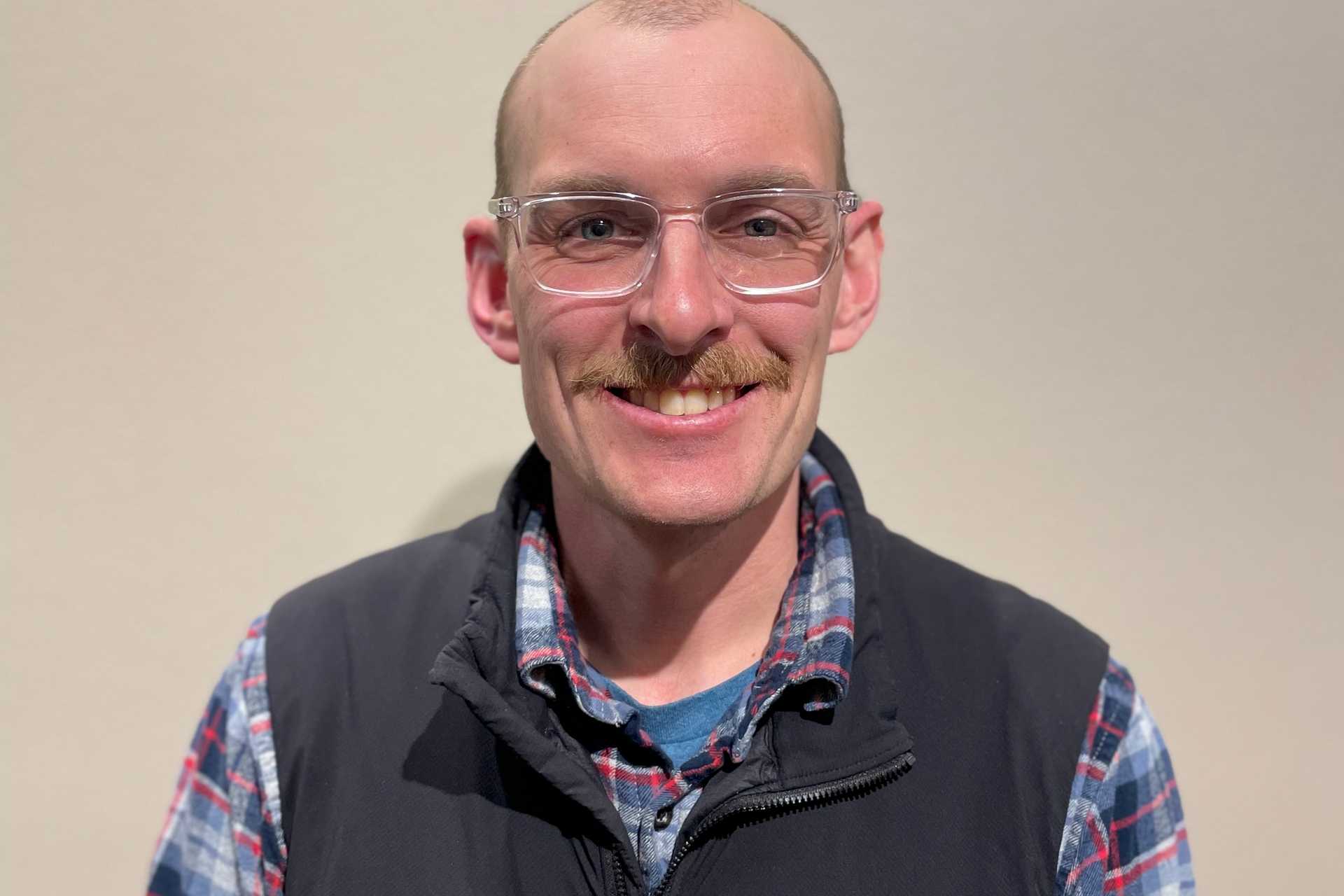 City Council Seat opens as Scotty Stuntz moves after a decade in Driggs.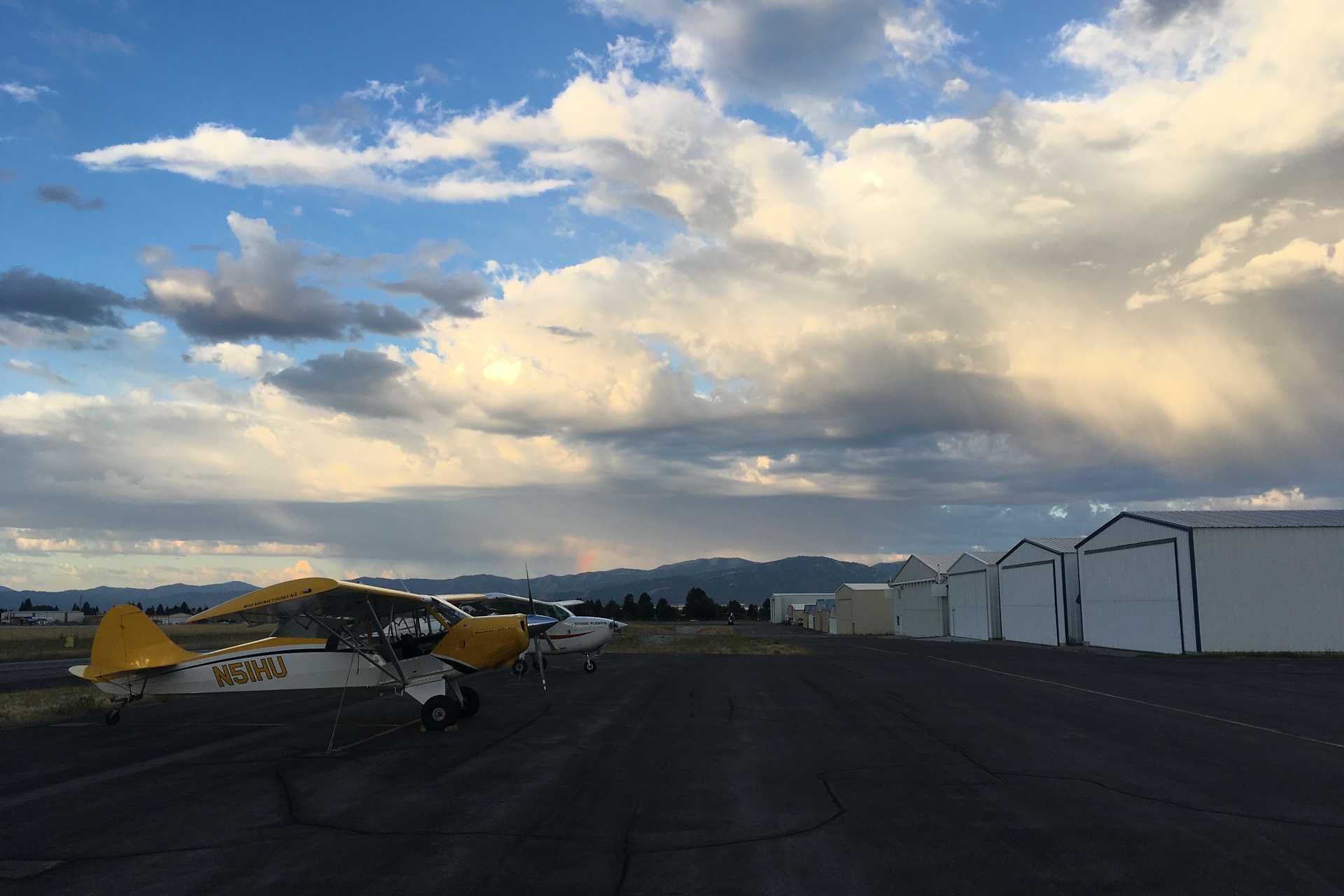 Driggs Reed Memorial Airport Manager Position Open
The Driggs Reed Memorial Airport is now hiring a full-time position for Airport Manager: General Aviation with full benefits and a starting salary of $70K. Read more for details and the link to apply online.
News
Public Service Announcement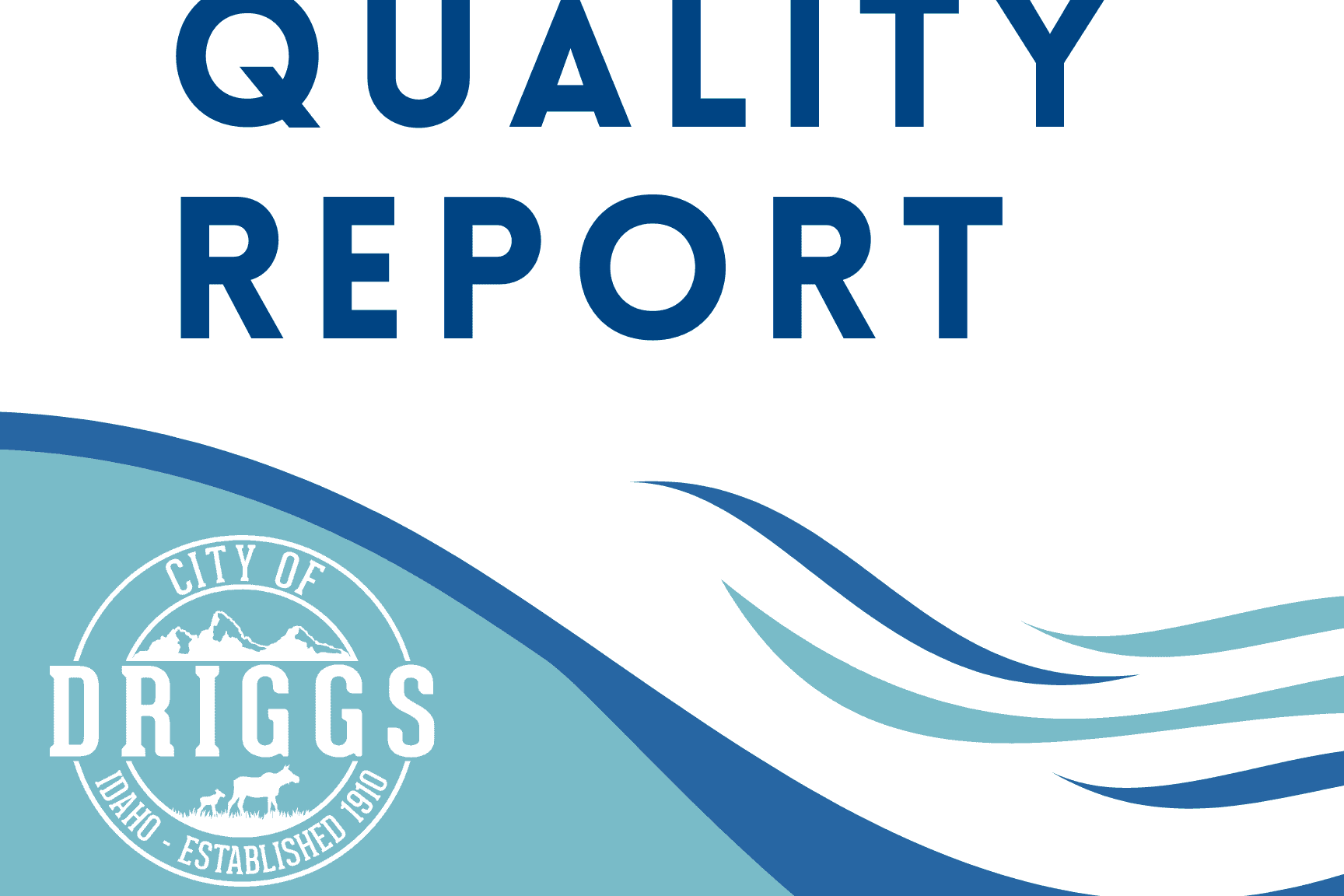 2022 Water Quality Report available
Consumer Confidence Reports (CCRs), also known as water quality reports or drinking water quality reports, provide you with important information about the quality of your drinking water. The U.S. Environmental Protection Agency (EPA) requires every community water supplier to provide a CCR to its customers.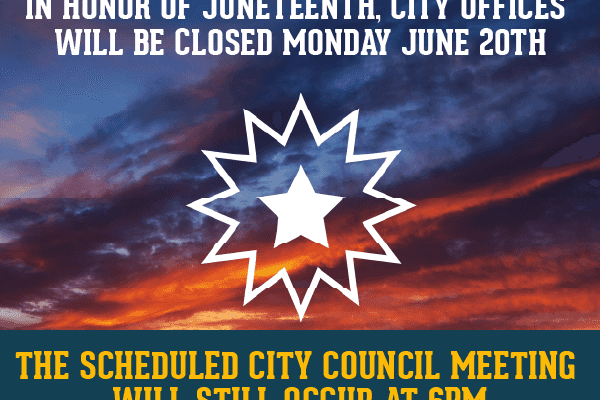 City Hall is closed for Juneteenth Holiday but City Council Meeting & Public Hearing will still occur Monday, June 20th at 6 pm.
City of Driggs offices will be closed on Monday, June 20th in observance of the federal holiday, Juneteenth, which falls on a Sunday this year. However, the scheduled City Council Meeting with two public hearing items will still occur starting at 6 pm.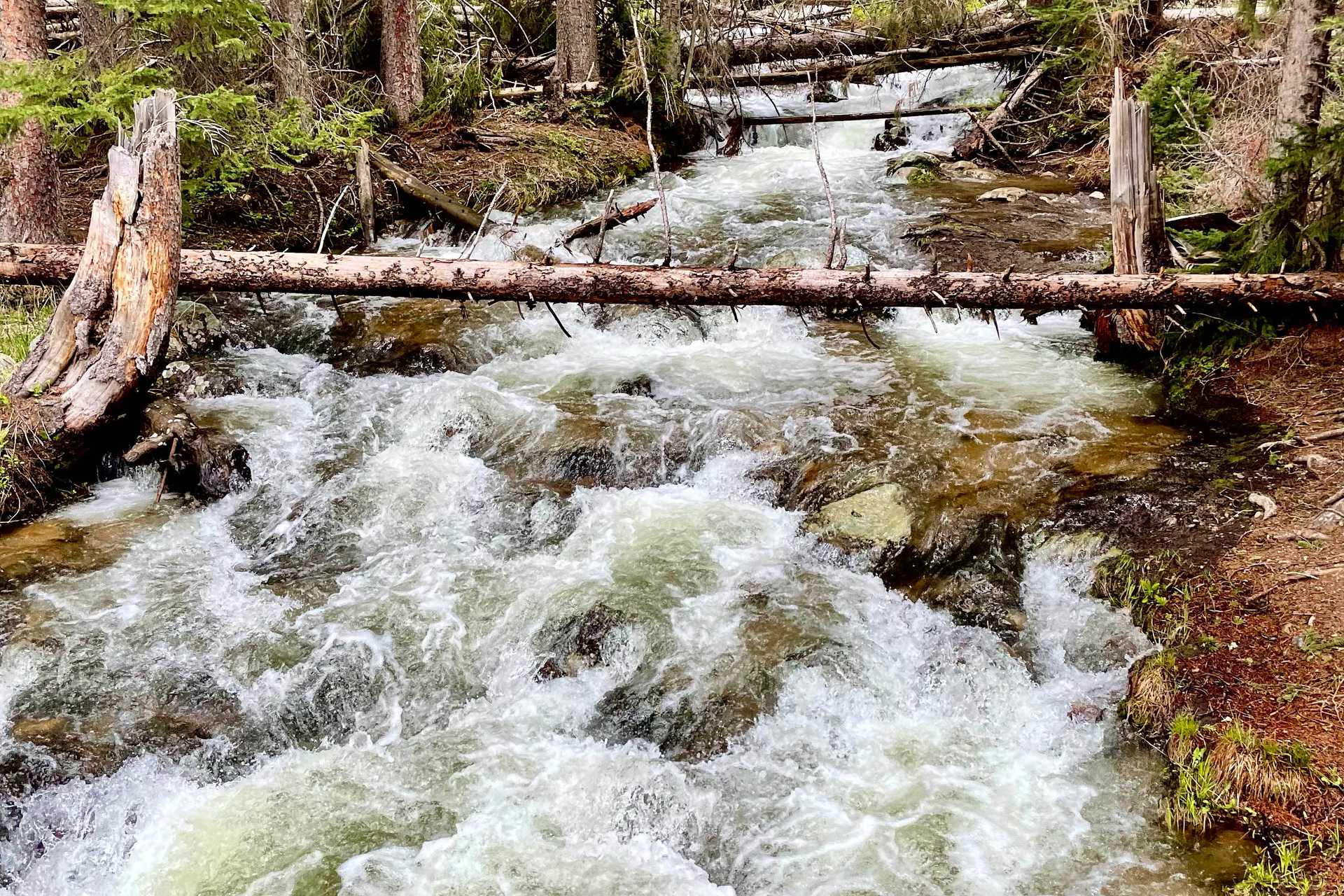 High Water Watch! Use Caution: Flooding may occur in areas of Teton County.
Due to the recent rain and the increase in temperatures we are experiencing an increase in the risk of flooding. The National Weather Service has put out a flood warning indicating that runoff will peak sometime within the next few days possibly resulting in minor flooding.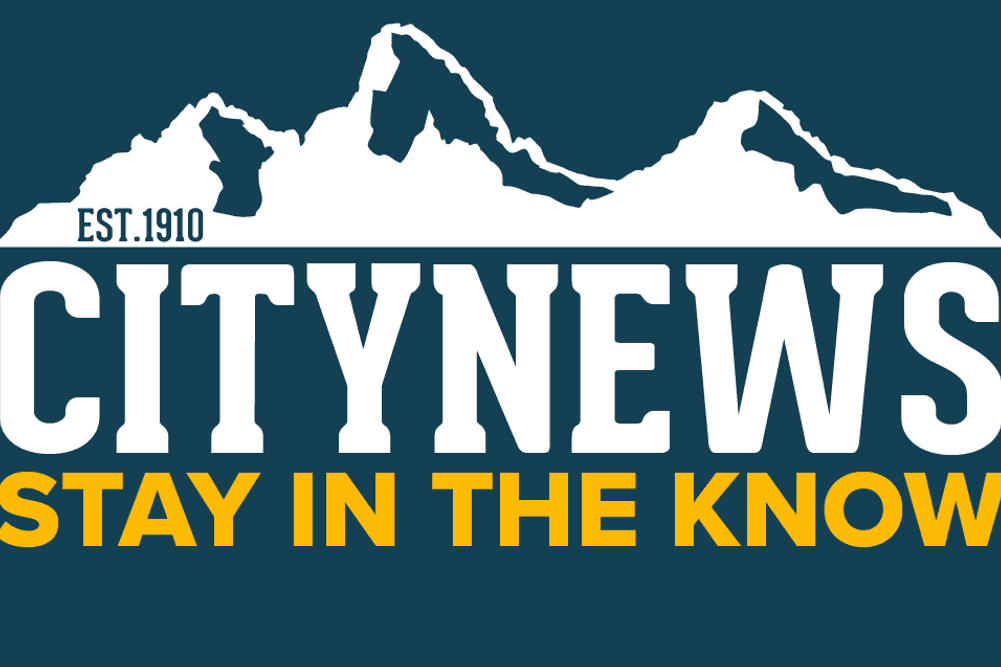 Read our June E-Newsletter
Warmer temperatures bring fun to the city and construction season! Learn all the latest in this month's CityNews!
News
Planning and Zoning
Public Notice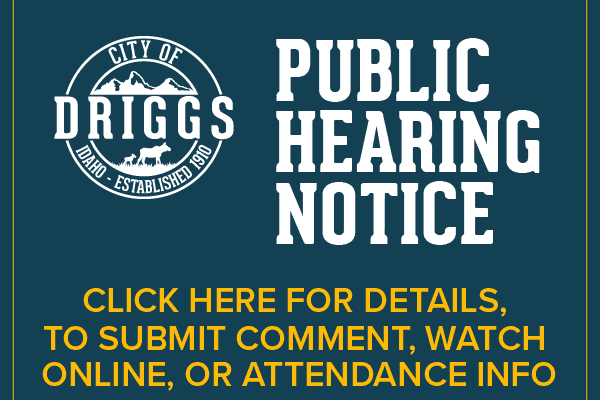 Pubic Hearing Notice for City Council
City Council will host a public hearing on June 20th, 2022 during the regular City Council meeting regarding applications for an annexation and a subdivision preliminary plat.
News
Public Service Announcement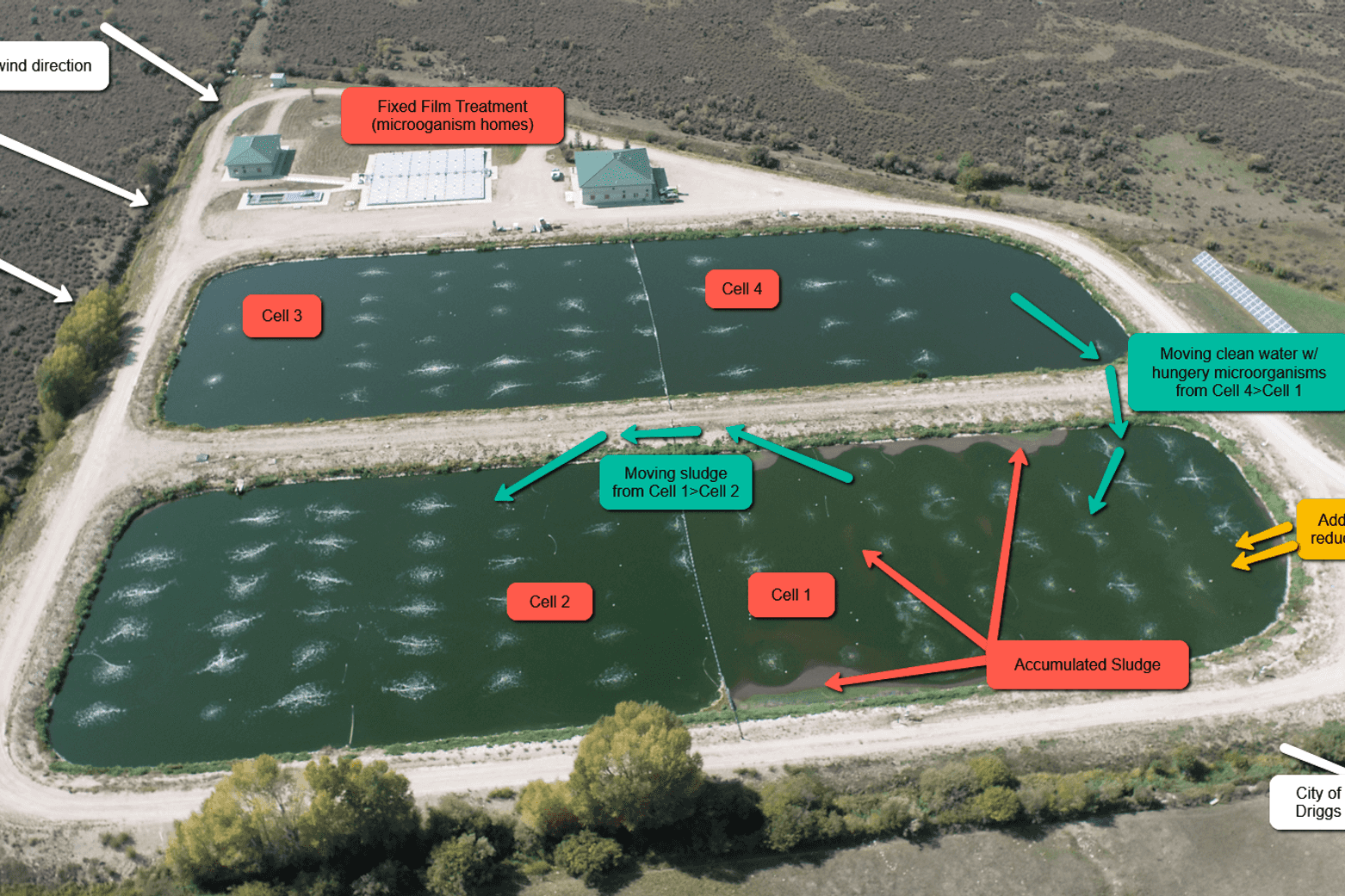 Waste Water Treatment Plant Odor is Temporary
An odor has been present in town the last few weeks when the wind is blowing, and many are wondering what it is and where it is coming from. The odor is generated from the Waste Water Treatment Plant (WWTP) on the southwest side of town and, more specifically, from our sludge-holding lagoons.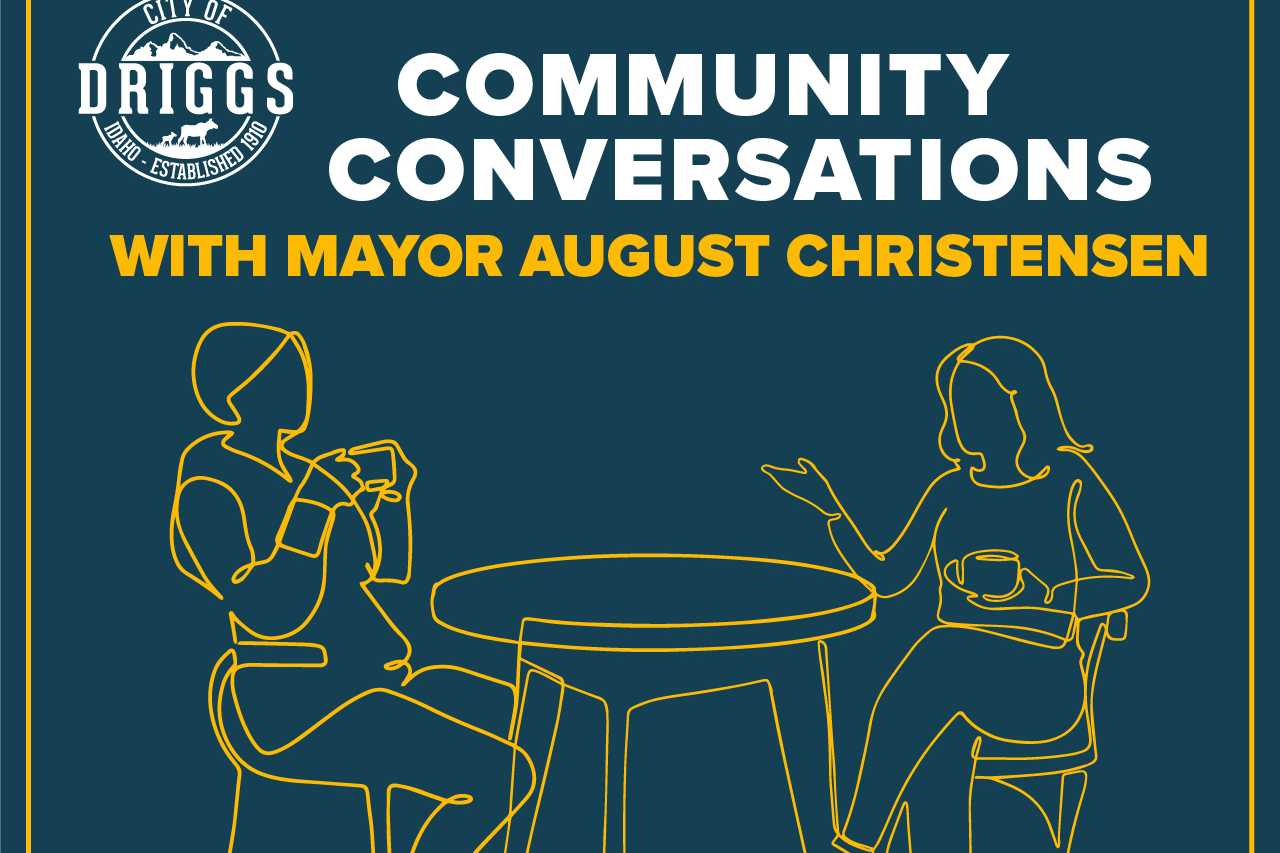 Community Conversations with the Mayor
Join Mayor August Christensen on June 16th at 10 am for the first Community Conversations event!
Planning and Zoning
Public Notice
News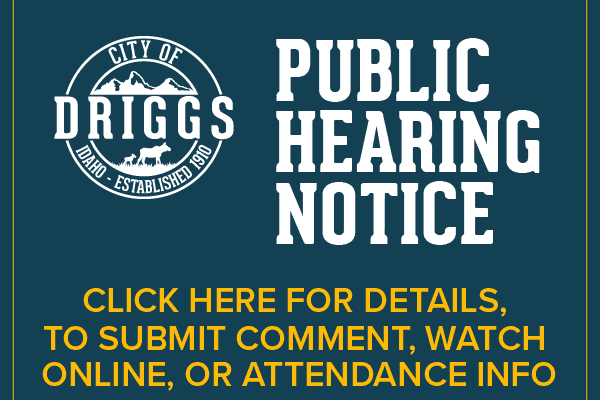 Public Hearing Notice for Planning & Zoning Commission
The Planning & Zoning Commission will hold a public hearing on Wednesday, June 8th to consider a Zoning Map Amendment for 415 E Little Ave, from RS-7 (Residential Single Family and Two-Family) to the NX (Neighborhood Mixed Use) zone.
Public Notice
News
Planning and Zoning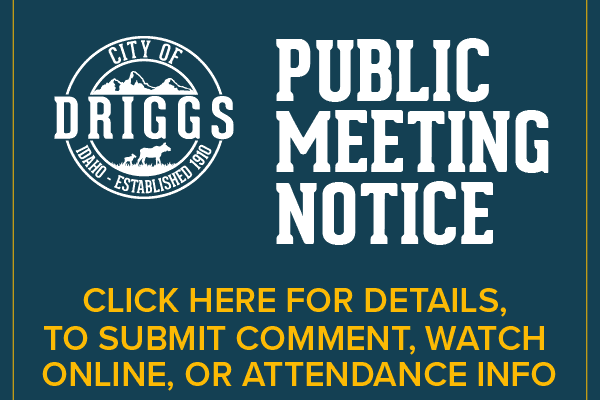 Public Meeting for City Council on June 7th
The City Council will hold a public meeting to review the FINAL PLAT APPLICATION for Tributary Subdivision Phase III and the Rivers West Request for Reconsideration. There will be no opportunity for the public to comment on these agenda items.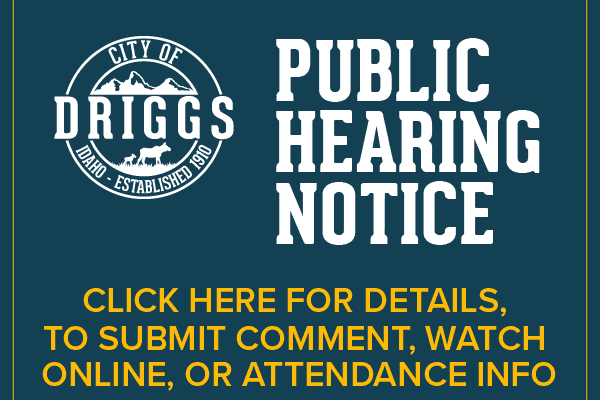 Public Hearing Notice for City Council Meeting on May 17th
City Council will deliberate on a proposed amendment to the Land Development Code to incentivize affordable housing and modify short-term rental code.
Public Notice
News
Planning and Zoning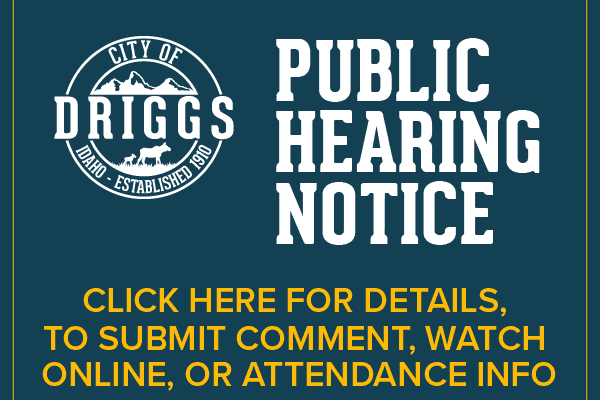 Public Hearing & Public Meeting Notice for Planning & Zoning
Several applications will be open for public comment during the Wednesday, May 11th P&Z Commission's regular meeting. Join in person, tune in online, or submit your comments in advance.
News
Public Service Announcement
LeGrande Pierre road and pathway updates starting in May
The City of Driggs is pleased to provide this update on the LeGrand Pierre Avenue road and pathway improvements planned for the summers of 2022 and 2023. Road Grading will occur this May followed by a brand new pathway project with construction starting this July-August 2022!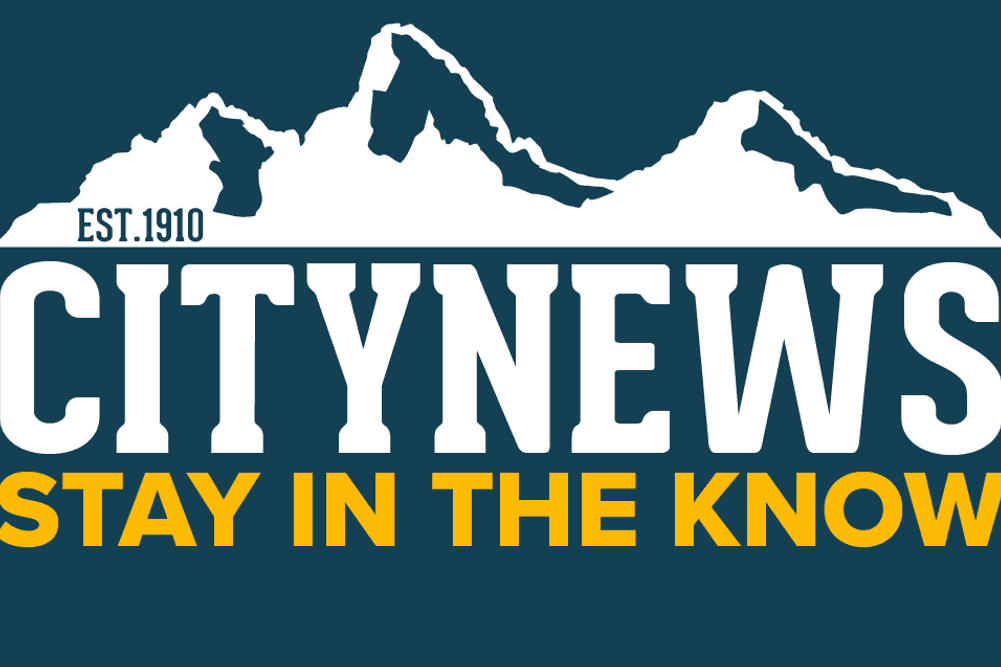 April CityNews
Curious what the City has been up to? Read all about the latest Council Member, Affordable Housing, Grants, land developments, and more!
Public Notice
Planning and Zoning
News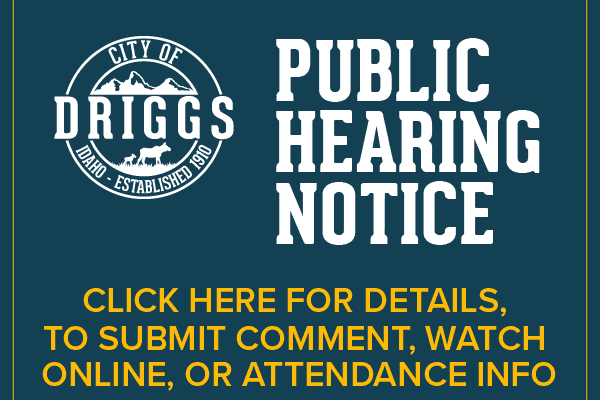 Public Hearing & Public Meeting Notice for City Council's April 19th meeting
Driggs City Council will hold a public hearing at 60 S. Main St. in Driggs City Hall and virtually via Zoom on Tuesday, April 19, 2022, at 6:00 pm to consider the application for SUB21-4: Rivers West Subdivision as well as a Public Meeting for ZC22-2: Zone Change on Little Avenue and 5th Street.
News
Public Service Announcement
Press Release: March 25, 2022
SHERIFF'S OFFICE SEEKING HELP OF DRIGGS RESIDENTS ON ARMED ROBBERY CASE AND HOW RESIDENTS CAN SIGN UP FOR CODE RED ALERT SYSTEM
Public Notice
Planning and Zoning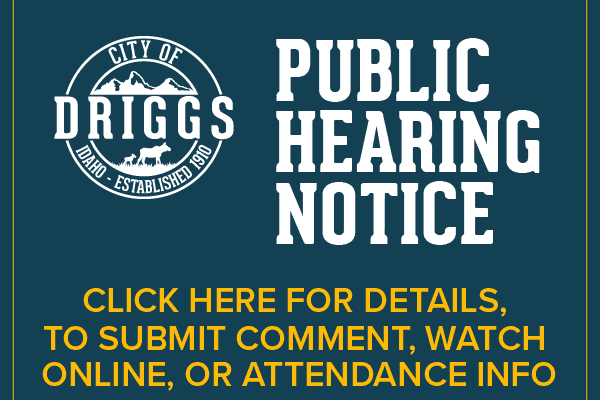 Public Hearing Notice for Planning & Zoning's April 13th meeting
Driggs Planning & Zoning Commission and the Teton County Planning & Zoning Commission will hold a JOINT public hearing at Driggs City Hall on Wednesday, April 13, 2022 at 6:30 PM to consider the application for a subdivision: SUB21-2 Mummford Solly's Subdivision Area of Impact.
Open House for Driggs Affordable Housing Code Amendments this Tuesday, March 22nd
The City of Driggs invites you to join staff, elected and appointed officials, stakeholders, and other community members between 2-4pm or 6-8pm in the City Hall Foyer for informal (drop-in) discussion of proposed 'first-round' amendments to the Driggs Land Development Code to encourage the development of affordable and workforce housing in the city. Refreshments will be provided.
New Member Appointed to City Council
A two-year seat appointment was ratified during Tuesday's meeting granting Miles Knowles another term on Driggs City Council.
Public Notice
News
Planning and Zoning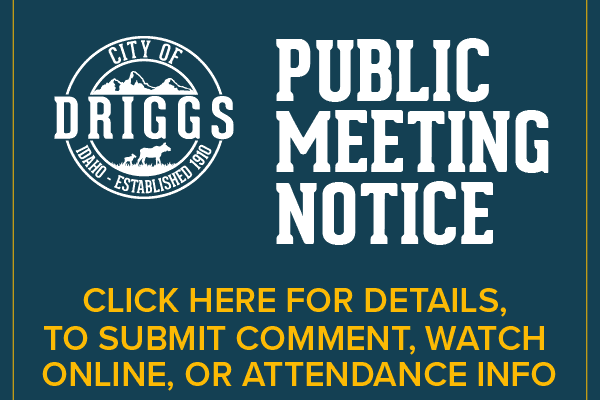 Upcoming Public Meetings 3/15 & 4/5
Driggs City Council will be holding two public meetings at Driggs City Hall for SUB21-9 and SUB22-2.
Take our Park Survey by March 15th
Driggs has beautiful parks but we are planning to make them even better! We are partnering with Eastern Idaho Public Health to gather input on park usage, improvements, and ideas to make our parks better for all ages.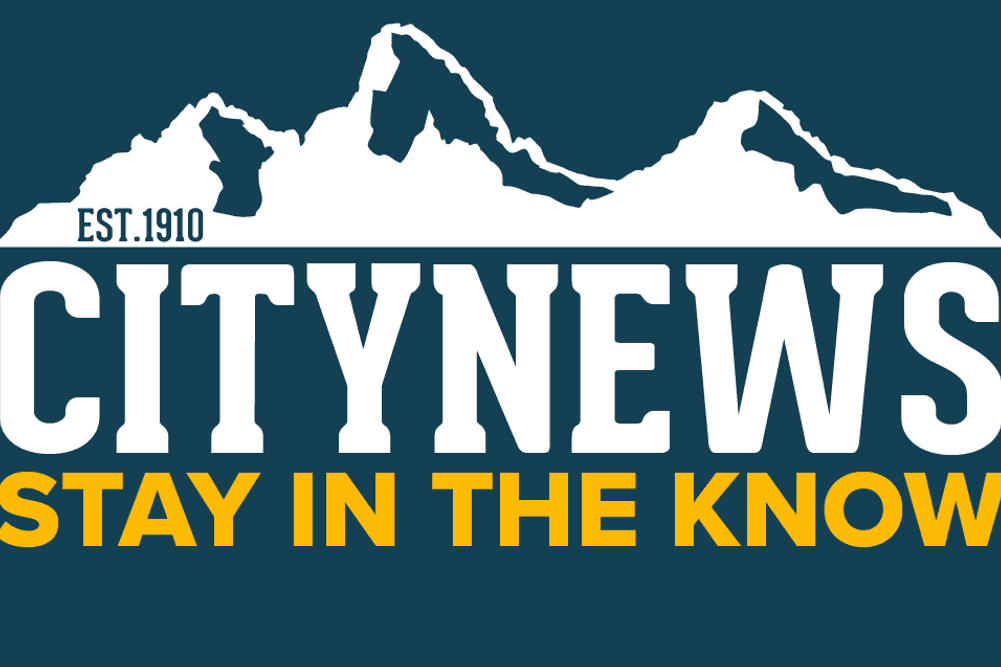 March Issue of CityNews
Driggs has a council seat open, job opportunities, and city limits even grew just a little. Read the whole scoop in the March issue of CityNews.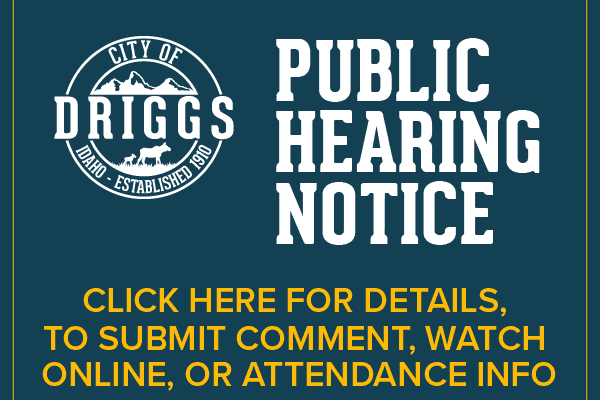 Public Hearing Notice for Planning & Zoning Commission
Wednesday, March 9, 2022, at 6:30pm the P&Z Commission will hold a public hearing for ZC22-3: Valley Centre Block 5-1 and SUB22-2: Short Plat Subdivision at 420 North Main Street.
DRIGGS AIRPORT MAKES CHANGES PRIOR TO JACKSON HOLE AIRPORT'S TEMPORARY CLOSURE
Our neighbors at the Jackson Hole Airport (JAC) will be closed from April 11 to June 27, 2022 for runway repairs.  New Landing Fees and other noise abatement measures aim to mitigate the impact of increased plane traffic during the closure.
News
Public Notice
Planning and Zoning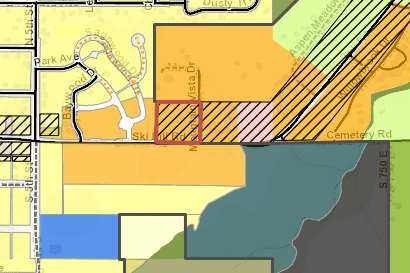 Summary of ORDINANCE 440-21 Adoption
This is the formal adoption notice of Ordinance 440-21 which annexes the 5-acre parcel in the Mountain Vistas subdivision to be within city limits.
February CityNews
Driggs is currently accepting applications for interested residents that live within the city limits for an appointed two-year City Council seat. There is a new open mic time period for Community Input at the beginning of City Council Meetings and much more important news in this month's CityNews email newsletter.
Public Notice
Planning and Zoning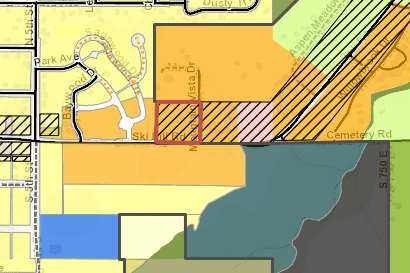 Public Hearing for Annexation AX21-3
A public hearing for Tuesday, February 1st 6:00 pm at the City Council Meeting will be open for public comment.
FREE KN95 MASKS TO RESIDENTS AND BUSINESSES TO PROTECT AGAINST COVID-19 AS CASES SURGE
The City of Driggs is taking extra precautions to keep our community and City Staff healthy during the national and local surge in COVID-19 cases.  Our City Staff is working hard every day to maintain essential services and keep city business running smoothly.
Driggs Swears in a New Mayor and Council
Tuesday, January 4, 2022, the Driggs City Council bid farewell to Mayor Hyrum Johnson after serving eight years in office and thanked Miles Knowles for his service on City Council. Mayor Johnson passed along words of wisdom and turned the keys over to newly elected Mayor August Christensen.
"Winter is not a season; it's a celebration."
Happy New Year!  And welcome to winter in Driggs!  I hope you and yours enjoyed a safe and pleasant holiday season.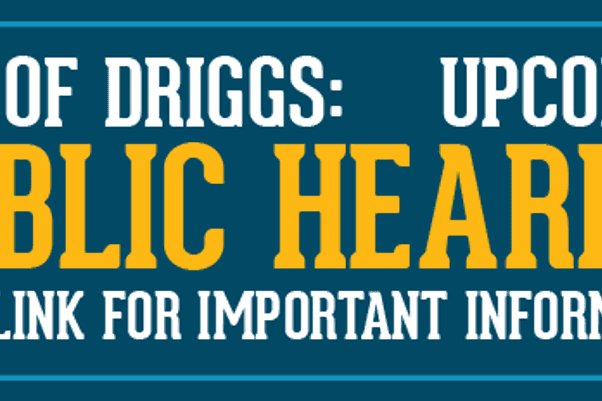 Planning & Zoning Public Hearing: January 12, 2022
The purpose of this hearing is to consider an application for annexation into the City of Driggs with a zoning designation of PUD-T-R of approximately 38 acres and the de-annexation of approximately 3 acres to be designated with AOI ADR-2.5 zoning. All subject areas are within the Tributary Planned Unit Development.
Public Service Announcement
City Hall Offices Closed for the Holidays
Happy Holidays from the City of Driggs! Our offices will be closed December 24th and December 31st.
City Getting Enhanced Law Enforcement Services
The City of Driggs, the Teton County Sheriff's Office and the Teton County Office of the Prosecuting Attorney are pleased to announce the completion of an agreement for enhanced law enforcement services within the city limits of Driggs. 
Public Service Announcement
Winter Rules in Effect
Due to freezing temperatures and snowfall, winter rules are in effect for parking and digging in right-of-way areas.