Contact Info
City Hall
60 South Main Street
P.O. Box 48
Driggs, Idaho 83422
Hours: Monday-Thursday 8:30 a.m. - 5:00 p.m.
Friday 8:30 a.m. - 1:00 p.m.
Phone: (208) 354-2362
General Email: info@driggsidaho.org
Recent City News
All the info...
FREE KN95 MASKS TO RESIDENTS AND BUSINESSES TO PROTECT AGAINST COVID-19 AS CASES SURGE
The City of Driggs is taking extra precautions to keep our community and City Staff healthy during the national and local surge in COVID-19 cases.  Our City Staff is working hard every day to maintain essential services and keep city business running smoothly.
Driggs Swears in a New Mayor and Council
Tuesday, January 4, 2022, the Driggs City Council bid farewell to Mayor Hyrum Johnson after serving eight years in office and thanked Miles Knowles for his service on City Council. Mayor Johnson passed along words of wisdom and turned the keys over to newly elected Mayor August Christensen.
"Winter is not a season; it's a celebration."
Happy New Year!  And welcome to winter in Driggs!  I hope you and yours enjoyed a safe and pleasant holiday season.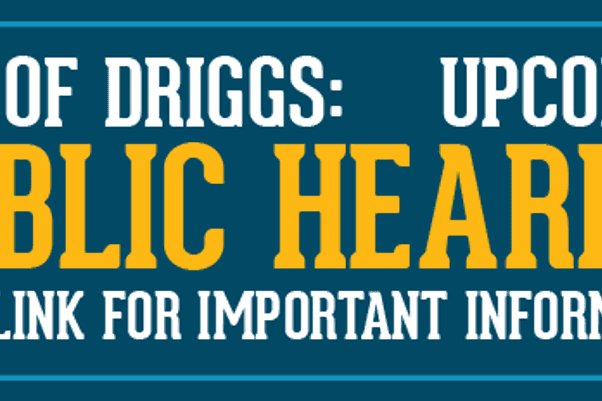 Planning & Zoning Public Hearing: January 12, 2022
The purpose of this hearing is to consider an application for annexation into the City of Driggs with a zoning designation of PUD-T-R of approximately 38 acres and the de-annexation of approximately 3 acres to be designated with AOI ADR-2.5 zoning. All subject areas are within the Tributary Planned Unit Development.
Public Service Announcement
City Hall Offices Closed for the Holidays
Happy Holidays from the City of Driggs! Our offices will be closed December 24th and December 31st.
City Getting Enhanced Law Enforcement Services
The City of Driggs, the Teton County Sheriff's Office and the Teton County Office of the Prosecuting Attorney are pleased to announce the completion of an agreement for enhanced law enforcement services within the city limits of Driggs. 
Public Service Announcement
Winter Rules in Effect
Due to freezing temperatures and snowfall, winter rules are in effect for parking and digging in right-of-way areas.